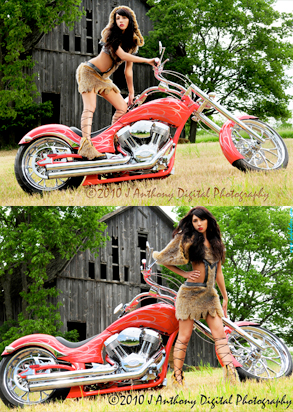 Courtesy: Jaye Ott
Pity the wolf that runs into Farrah Abraham in the woods.
Check out the 19-year-old Teen Mom alum posing for J. Anthony Digital Photography's "Mastering the Art of American Motorcycles" calendar in which Farrah—aka Miss May—wears a medieval-chic outfit she designed herself that's meant to invoke Red Riding Hood.
Red Riding Hood after she's skinned the Big Bad Wolf and made a minidress out of his hide, that is.