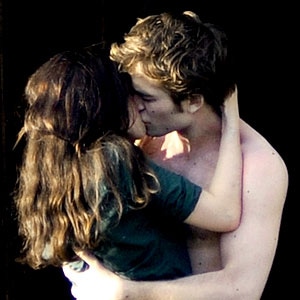 INFphoto.com
"No, sorry but we have bigger things to worry about than them...like the economy."
—Spokesperson for Tsunami restaurant in Baton Rouge, La., when we called to see if Hollywood Life's item about Robert Pattinson's "wild, boys' night out" had any truth to it.
Are you loving or hating this Breaking Dawn lockdown?
Must say, we're über-impressed at how respectful everyone down south has been.
Although some restaurants tweet and delete Twilight sightings every now and then, we really don't hear much of a peep about our favorite crew.
Or maybe that's because Rob and Kristen Stewart's relationship is far from being the scandal of the set anymore (as if that were the biggest one, anyway).
We think it's a little of both.
The tight confidentiality agreements from the crew in Baton Rouge are about ensuring Summit's money makers feel protected and not giving too much away about how Bill Condon is splitting everything up.
Speaking of Bill, Elizabeth Reaser could not stop raving about him to E! News at Sundance.
"I think Bill Condon is the perfect director for this movie. I'm already, really, so blown away by working with him," the Cullen mom said. "It's been really special. I mean, every element of this movie is so top notch, and that's all Bill Condon, so it's great."