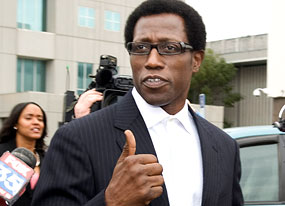 AP Photo/Phil Sandlin
Wesley Snipes continues to pay.
A Florida judge ruled last week that the tax-evading actor must reimburse the government for more than $200,000 in legal fees it spent prosecuting his federal case.
Snipes, who has appealed his conviction for failing to report nearly $11 million in income to the IRS, had argued that the U.S. Attorney's office was unfairly billing him for what it cost to go after his codefendants.
But U.S. District Court Judge William Terrell Hodges said that Snipes has got to pay $217,363.75.
According to the Orlando Sentinel, the tab includes $193,716 for paperwork (scanning, printing and numbering documents seized from the antitax organization that told the Blade star he could legally avoid paying income tax) and $21,000 in witness fees.
Meanwhile, Snipes remains free on a $1 million bond pending the outcome of his appeal. He was sentenced in April to three years in prison on three misdemeanor counts of failing to file a tax return.
Last month, Hodges gave the 46-year-old actor permission to travel to London and then to Bangkok in September to work on two films.