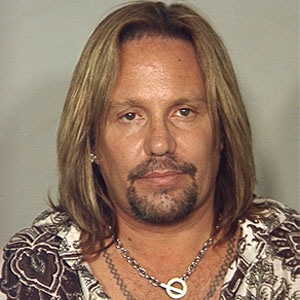 Las Vegas Police Dept.
Another trip to the slammer may be in the cards for Vince Neil.
The Mötley Crüe frontman pleaded guilty in a Las Vegas courtroom today to misdemeanor DUI and speeding charges stemming from a June 2010 bust, the Clark County D.A. confirms to E! News...
The 49-year-old rocker had originally pled not guilty, but he changed his tune after working out a plea deal with the D.A.—which includes serving 15 days in jail and 15 days under house arrest, a $585 fine a DUI class and participating in an online victim's impact panel, which he has 90 days to complete.
This isn't Neil's first run-in with the law. Back in 1984, he pleaded guilty to DUI and vehicular manslaughter after the car he was driving slammed into another vehicle, killing his passenger Nicholas "Razzle" Dingley (of the band Hanoi Rocks) and injuring two occupants in the other car. Neil served 15 days of a 30-day jail sentence, paid $2.5 million in restitution to the victims and their families and performed 200 hours of community service.
He is expected to surrender Feb. 15.