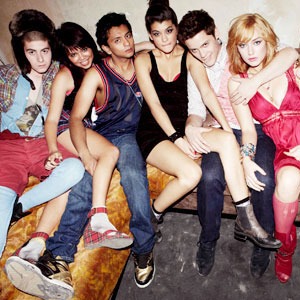 MTV
UPDATE: Schick jumped on the anti-Skins bandwagon, as well, saying the "show's content is not aligned with Schick corporate guidelines."
____________________________
Subway's taking the next train outta Skins-ville.
Jared Fogle's favorite sandwich chain joins Wrigley, Taco Bell and General Motors in pulling its ads from the controversial MTV show, and is refusing to air spots during tonight's episode of the series.
Producers on the racy teen drama, which has has come under heavy fire from groups like the Parents Television Council for its too-sexy scenarios about teens and their exploits, have been asked by parent company Viacom to tone it down, amid worries the show was venturing into child-porn territory...
A rep for Subway confirmed to The Hollywood Reporter that the fast food joint "will not be advertising" on tonight's episode, after a commercial for the chain appeared on the premiere episode of the show. The company pulled ads after pressure from the PTC (the same bunch who blew a gasket over the Glee cast's "borderline pedophilia" pics)  launched a campaign Sunday urging viewers to complain to the company for advertising during the show. The campaign followed a letter the group had sent to the U.S. Senate and House Judiciary Committees and the Department of Justice asking to immediately open an investigation into allegations of child pornography and exploitation on the show.
Skins has garnered much negative attention since it aired for it's racy depiction of teenagers. The show plucked largely unknown actors, 15- to 19-years-old, to play high school kids, a deliberate casting decision in order to lend authenticity to the scripted antics, which are based on a British series of the same name. So, in the eyes of the law, some of the Skins stars really are minors.
But MTV stands by the series, which is rated TV-MA and airs at the more adult-friendly hour of 10 p.m., and said in a statement that careful consideration is given to every scene. As well, the cable network says that not every show works with every advertiser.
"We have an ongoing dialogue with our advertising partners about the best fit for them across our diverse lineup of shows. We know that not every show works for every advertiser. That said, we are confident that Skins will continue to connect with the audience it was created for and that advertisers will take advantage of the opportunity to reach them."
Advertisers might be getting turned off, but we have a feeling all this controversy may have audiences tuning in.