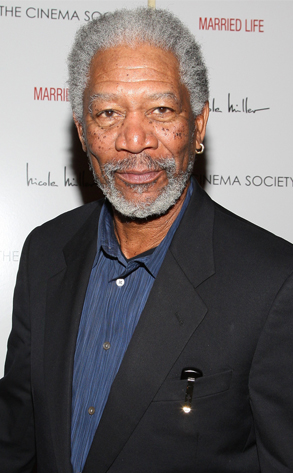 Jason Kempin/Getty Images
Morgan Freeman appears to have found a shortcut on the road to recovery.
A rep for the 71-year-old Oscar winner said Freeman is "doing well" after undergoing a lengthy surgery Monday night, in the wake of his rollover single-car crash.
"Morgan is doing well after surgery last night to reconnect nerves and to repair damage to his left arm and hand," Freeman's publicist, Donna Lee, said in a statement.
"The surgery lasted approximately four and a half hours, including recovery, and he is in good spirits and was visiting with family members this morning."
In an even better sign that the Dark Knight star will fully recover from the jaws-of-life-requiring smash, Lee said that Freeman was already up and about at the hospital.
"He was walking this a.m., and is looking forward to his release as soon as possible."
As of early Tuesday afternoon, Freeman was still listed in serious condition, according to Kathy Stringer, spokeswoman for  Memphis' Regional Medical Center. There was no immediate word on passenger Demaris Meyer, 48.
Yesterday, Lee confirmed that Freeman suffered a broken arm, elbow and minor shoulder damage as a result of the crash. The actor was behind the wheel of a Meyer's car in Mississippi when he lost control of the vehicle, which flipped several times before landing upright. He and Meyer, a family friend, were subsequently airlifted 90 miles to the Memphis facility.
Via Lee, Freeman also extended his gratitude to the public outpouring of support in the wake of his accident.
"Thanks from Morgan to the many who sent good wishes and prayers."
(Originally published Aug. 5, 2008 at 11:07 a.m. PT.)