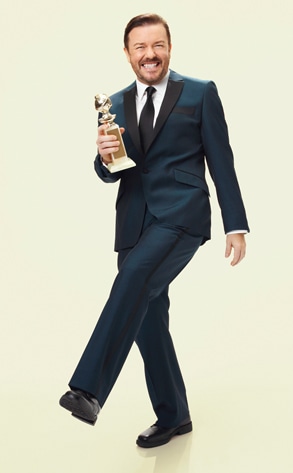 Virginia Sherwood/NBC
UPDATE: The Hollywood Foreign Press and now Ricky Gervais have spoken out about last night's show.
But did they call each other out?
Nope.
According to the Golden Globes givers and the Golden Globes host, all is well. 
"We loved the show," the Hollywood Foreign Press said in a statement to E! News. "It was a lot of fun and obviously has a lot of people talking."
"When you hire a comedian like Ricky Gervais, one expects in your face, sometimes outrageous material. Certainly, in this case, he pushed the envelope and occasionally went too far," the group continued. "The HFPA would never condone some of his personal remarks. Overall, however, the show was among the best we've ever had and we were pleased."
According to Gervais, there are no hard feelings between him and Hollywood, either. "Everyone took it well, and the atmosphere backstage and at the after show was great," he said in a statement.
And as for that long gap on Sunday's show in which Gervais was M.I.A.? It was a long gap, Gervais explained—nothing more, nothing less.
"I did every single introduction I was meant to," Gervais said. "…I was allowed to choose who I would introduce in advance. I obviously chose presenters who I had the best jokes for. (And who I knew had a good sense of humor)."
Mystery solved! Controversy defused! Now about Robert De Niro's acceptance speech…
___________
No, Ricky Gervais wasn't escorted from the premises mid-way through the Golden Globes.
But should he have been?
Ratings-wise, the Gervais-hosted (or was it roasted?) affair was a hit.
Early numbers show the Globes reaching its biggest audience—just under 17 million viewers, up slightly from last year—since 2007.
All things considered, the Nielsen performance was impressive, coming at a time when post-Avatar Hollywood is on a two-month losing streak at the box office, and coming on a night when some of the biggest winners (Paul Giamatti, Melissa Leo, Colin Firth) weren't the biggest stars.
As for the Gervais factor…
When the emcee disappeared from the show for about an hour, the Twitterverse got fired up with the notion that the Scientology-, Tourist- and Charlie Sheen-skewering comic had been fired. But, alas, Gervais was only on a break. He finished the show—even if, as the Hollywood Reporter speculated, the Globes may be finished with him.
"In what will undoubtedly be his last hosting gig for the Hollywood Foreign Press Association (and, who knows, maybe any Stateside awards)," the trade paper wrote, "he didn't disappoint."
Yup, in addition to good ratings, Gervais got good reviews—from TV critics, that is. New York Magazine said Globe attendees "might not have enjoyed Gervais's bruising one-liners tonight, but screw 'em. They're rich and they can take it." Entertainment Weekly thanked the man for "bringing the sort of funny rudeness and effrontery…that make an awards show such as the Golden Globes engaging to watch."
Gervais' notices from Hollywood weren't as glowing. During the telecast, presenter Robert Downey Jr. took a deft swipe at the show as "hugely mean-spirited with mildly sinister undertones." Tom Hanks and Tim Allen tag-teamed on a line about how Gervais used to be a "very kind comedian."
When the Los Angeles Times caught up with the Hollywood Foreign Press president—himself a target of Gervais—and asked if the comic would be back next year, the exec told the paper, "No comment." 
And if the Washington Post is correct, that'll be the end of that—and Gervais. Wrote critic Lisa de Moraes, "We're here to bring you the TV news that emanated from the frosty ballroom of the Beverly Hilton Hotel where Gervais's career died."