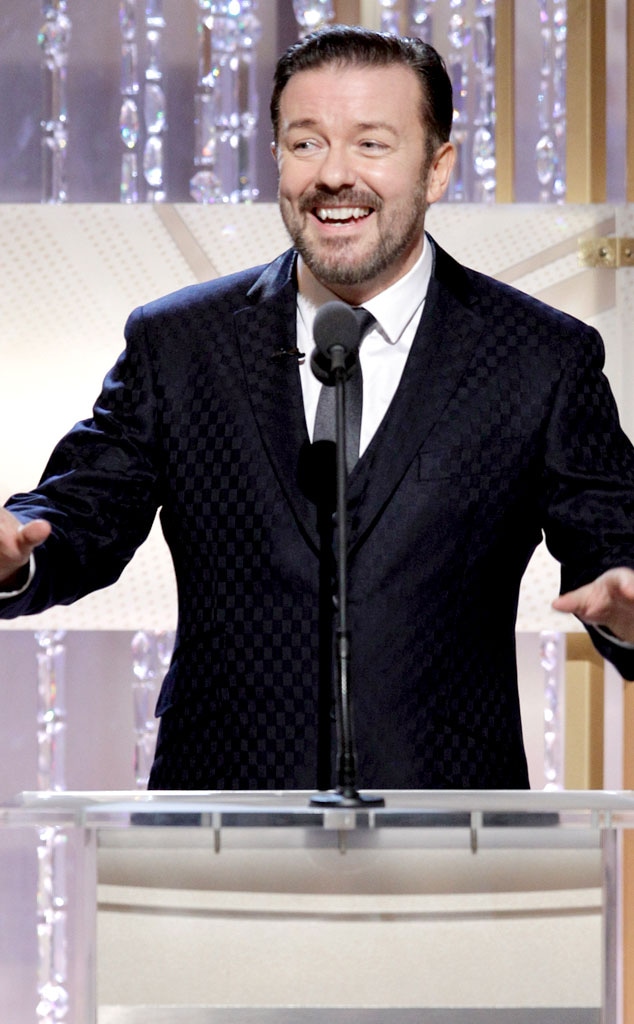 Paul Drinkwater/NBC via AP Images
With all of Hollywood to choose from—Brad Pitt, Angelina Jolie, Johnny Depp, Scarlett Johansson, Lea Michele, Jon Hamm, Jennifer Lopez were in attendance—so who did Ricky Gervais insult this year?
Read on…
Best Opening Jokes: The host of the show, Ricky Gervais, didn't hesitate sticking it to the cast of Charlie Sheen, Johnny Depp, the cast of Sex and the City, Hugh Hefner and…well, just relive some of his more caustic comments:
• "It's gonna be a night of partying and heavy drinking, or as Charlie Sheen calls it, breakfast."
• "It was a big year for 3-D movies: Toy Story. Despicable Me. Tron. Seems like everything this year was three-dimensional—except the characters in The Tourist."
• "And I'd like to quash this ridiculous rumor going around that the only reason The Tourist was nominated was so the Hollywood Foreign Press could hang out with Johnny Depp and Angelina Jolie. That is rubbish. That is not the only reason. They also accepted bribes."
• "All that happened was some of them were taken to see Cher in concert. How the hell is that a bribe? Really, Do you want to go see Cher? No. Why not? Because it's not 1975."
• "Also not nominated: I Love You, Philip Morris. Jim Carrey and Ewan McGregor. Two heterosexual actors pretending to be gay. Sort of the complete opposite of some famous Scientologists then...My lawyers helped me with the wording of that joke."
Most Surprising Supporting Actor: Christian Bale proved that not only is he not the brooding thespian, but actually a very funny British guy. (Unless he was just channeling Gervais as some kind of Method actor thing.)
Hottest Table? Robert Pattinson and Helen Mirren were seated opposite each other, we presume to prevent the table unseemly rumors and/or to protect the place from bursting into flame.
Most Succinct: "Screw that, kids!"—Glee's Chris Colfer, telling teens who are bullied or feel unsupported at home or who feel like they can't have what they want because of who they are.
Best Reaction: Robert De Niro laughing like crazy at Gervais opening remarks revolving around an oral sex joke. If only that new Fockers movie had been so funny.
Worst Use of a Precious Resource: You get Justin Bieber in the house, and all you let him do is read off the animated film choices? We're pretty sure he's allowed to see PG movies too, people.
Best Actor, and Most Compelling Reactor: Colin Firth not only gave a great speech for his Best Actor win, but he also showed class by always looking absolutely rapt at whatever was going onstage, without attention-getting tricks such as weeping (Lea Michele), cuddling (Brangelina) or gum chomping (Depp).
Worst Surprise: Stanley Tucci was in Burlesque? (What? We didn't see it.)
Most Potent Introduction: Eva Longoria introducing Philip Burke…no, wait, Ricky Gervais introducing Eva's intro to the HFPA honcho, which involved a toilet, false teeth…and Burke making a veiled threat about the fate of Gervais' next film. Maybe it was a joke? Hard to tell what he was saying through those false teeth, right?
Least Lingering Question: What runs through the minds of winners who don't get to speak, standing quietly next to their more famous cowinner?
Wackiest: The Fighter's Melissa Leo gave a wonderfully daffy speech that included a joke (we think?) about spending "those few hours we spent in the Maritime Hotel" with David O. Russell was a highlight.
Most Retro Introduction: After suggesting that many of Robert Downey Jr.'s films sound like porn flicks, Gervais added, "He has done all those films but many of you in this room know him best from such facilities as the Betty Ford clinic, and Los Angeles County Jail." Seriously, is that the first thing we need to mention about the guy anymore?
Most Scarily, Serious-Sounding Intro... Following that Downey came out and said, "Aside from the fact that it's been hugely mean-spirited with mildly sinister undertones, I'd say the vibe of the show is pretty good so far, wouldn't you?"
…Followed by Most Comic Follow-Through: Downey then continued in a mock-serious tone to suggest that, "I don't know if an actress can do her best work…until I've slept with her." Up until that moment, you had us going there, RDJ. Put we were pretty sure you were having us on when you said, "I'd give it to all five of you. At once. The award. Right here. Centerstage in front of my wife, the audience and millions of viewers." Iron Man, indeed! Maybe Gervais was onto something with the porn talk?
Most Fascinating Presenters: Impossibly dramatic Tilda Swinton and Geoffrey Rush looked ready to solve a crime or kill someone or something else. (Just listen to Swinton purr titles like, "The Pillars of the Earrrth! And you know she's serious.)
Least Serious Serious Actors: It was a night when the serious actors were anything but: De Niro cracking jokes about his back catalog! Matt Damon pretending not to know who De Niro is! Paul Giamatti rhapsodizing about Montreal, Godiva chocolates and Halle Berry! With all that comedy, who needs comedians? (Probably no one mentioned by Gervais, that's who!)
Sweetest Moment: The Big Bang Theory's Kayley Cuoco jumping for joy when announcing that her costar Jim Parsons had won his first Golden Globe. That was topped only by Parsons' own speech, which was funny, self-deprecating and gracious—down to apologizing to his nephew for not being able to come to his birthday party.
Most Fun: Glee's Jane Lynch quipped, "I am nothing if not falsely humble," before calling attention to the work of Glee writer Ian Brennan with "He is a deranged young man."
Best Underlying Theme: While many people commented on the hard work of women in the Industry (and the world at large), Aaron Sorkin said it best in a comment he addressed to his daughter at home, "Smart girls have more fun."
Biggest Question: Did Gervais effectively killed off the trend of having an acid-tongued, no-holds-barred comedian as awards show host? Tell us in the comments!