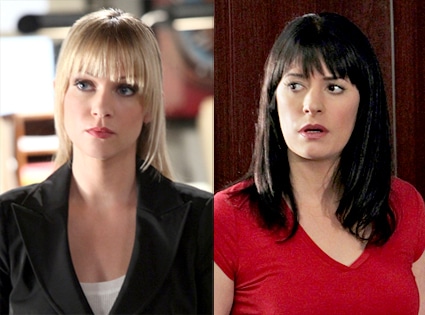 Monty Brinton/CBS
CBS Entertainment President Nina Tassler faced the press today about the canning of A.J. Cook and the diminution of Paget Brewster's role on Criminal Minds and her explanation was, shall we say...strained. The good news for us Minds fans is that Tassler expressed a hope that Brewster wouldn't quit the show entirely in response to the cuts.
So what caused the shakeup, according to Tassler? Would you believe that developing the Criminal Minds spinoff Suspect Behavior caused them to take a second look at the bureaucratic structure of the FBI and therefore reconsider the cast structure of Criminal Minds? Because that's the line Tassler is selling...
When asked if the cuts were in fact due to budget reasons, as some have speculated, Tassler said, "I wouldn't say that it was just budget reasons. I would say that over the past couple of years a lot of shows have taken a look at adjusting their casts, their castmembers, sometimes for budget reasons, and other times—in this case one of the factors we building a spinoff and we had [Criminal Minds:] Suspect Behavior and we looked at sort of the evolution of the franchise, what this division of the FBI, how they actually did their jobs...and that did give us an opportunity to reflect that back on the design and the structure of the team on Criminal Minds.
"So there were discussions about what role did A.J. play, what role did Paget play—is there an opportunity here with the spinoff to look back at the original show? How did we feel about that brand? How could we evolve the roles of the agents in the original show?
"We hope Paget stays with the show, she has the option to stay and we would like her to continue on with the show, but I can tell you that across the board there are discussions about castmembers changing—in fact it's more often than is necessarily shared by the press. It's the nature of the evolution of any show."
Uh-huh.
Cook, who plays public affairs agent Jennifer Jareau, was written off the series earlier this season; Brewster, who plays Behaviorial Analysis Unit agent Emily Prentiss, no longer appears in every episode.