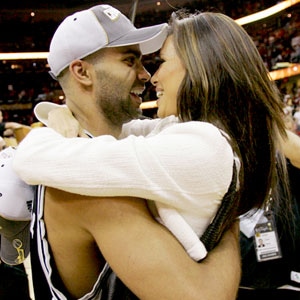 AP Photo/Eric Gay
Turns out Tony Parker hasn't been completely erased from Eva Longoria's life.
After the actress—who has her wedding date to the Spurs player stamped on her right wrist—was spotted over the weekend with the tattoo missing, fans questioned whether she had it removed after the duo split.
When E! News questioned the Desperate Housewives star on whether it was removed, we got a curious "no comment" from her rep.
But we got to the bottom of it, and here's what's happening...
Shortly after the wedding, Longoria was spotted with the Roman numerals VII VII MMVII, representing her and Parker's wedding date (July 7, 2007). He got the same numerals tattooed on his wedding ring finger.
But apparently Longoria was using some coverup.
"Just so everyone knows I still have all my tattoos," Longoria writes on her Twitter and Facebook pages. "Nothing is being removed, although I am always up for more tattoos!:) she adds, perhaps hinting at a new tattoo to hide the old one.
Back in March 2008, Longoria was questioned over the same wrist tattoo, after she appeared at the opening of her restaurant Beso without it. A few days later it was back on display.
Longoria has two other Tony-themed tattoos, a "9" on the back of her neck representing his basketball number, and his initials in an undiscolsed location on her body. The duo split in November after Longoria found text messages on Parker's phone from teammate Brent Barry's then-wife, Erin. While we're not sure whether those two had any love tats, we do know that the ink has just dried on their divorce papers, officially ending their marriage.