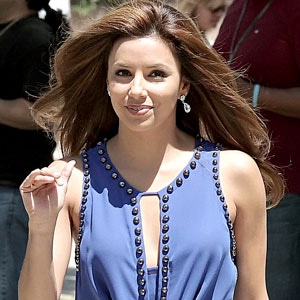 Andrew Shawaf/PacificCoastNews.com
Eva Longoria is going to have to take an even more "proactive, hands-on approach" to business this year than she thought.
The actress has been sued by an investor who alleges that the interest payments Longoria has been receiving since pumping $1 million into her Beso restaurant-and-nightclub enterprise violated California lending law.
So the plaintiff would like to remedy that.
In a nutshell, Beso partner Mali Nachum states that Longoria contracted to invest $1 million of her own money into the restaurant-nightclub business in return for yearly interest payments of 8 percent and a 23.33 percent stake in the company, while Nachum and fellow investor Jonas Lawrence's owners' equity in Beso would reflect Longoria's heightened share.
Last month, however, Nachum states that he discovered this loan agreement violated state usury law—i.e., Longoria wasn't legally entitled to 8 percent plus the 23.33 percent—and demanded that Beso LLC bring action against Longoria to return whatever interest she had received so far, estimated at $4.6 million.
Nachum is demanding at least $4 million in general damages, plus legal fees and the cancellation of any further interest payments to Longoria based on the original agreement.
Longoria's legal camp, meanwhile, is busy connecting the dots.
"This is a desperate reaction in a lawsuit without merit by prior partners who, through their unauthorized and fraudulent actions, required Eva Longoria to seek reorganization protection through bankruptcy court in Nevada," says a rep for the Desperate Housewives star.
Beso LLC filed for Chapter 11 bankruptcy protection last week in order to remain open while restructuring nearly $5.7 million in debt.
Longoria attempted to take the bankruptcy in stride, saying in a statement, "It's a New Year and we're making a new start. This is a great opportunity to begin anew, and I look forward to an exciting and enterprising 2011."
Moreover, she continued, "I look forward to a more proactive, hands-on approach in the coming year with my Las Vegas business."
Beso, which along with Longoria's Eve nightclub is located at Vegas' CityCenter, does a seemingly bustling business at its Hollywood outpost.