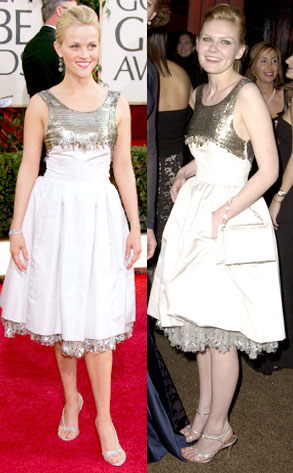 Lisa O'Connor/ZUMA Press; SGranitz/WireImage.com
It was the smackdown to end all style showdowns: Reese Witherspoon wore vintage Chanel to the 2006 Golden Globes. Only, it turned out that "vintage" simply meant Kirsten Dunst had worn the very same dress to a Globes party three years earlier. (Oh, the horror!)
In honor of this week's 68th Golden Globe Awards ceremony, the Fashion Police team will go live from the red carpet to tackle this and other awards-day drama during the E! Countdown Show this Sunday, Jan. 16 starting at 5 p.m. ET/2 p/m. PT.
Giuliana Rancic, Kelly Osbourne and George Kotsiopoulous will host, with a special appearance by Joan Rivers. Celebrity stylists will be phoning in as they get the stars ready. And our team will have it all, including the ultimate game of Bitch Stole My Look! We're talking major celebrity fashion feuds.
So cast your vote for this "vintage" faceoff and then tune-in this Sunday for live results and more red carpet craziness.