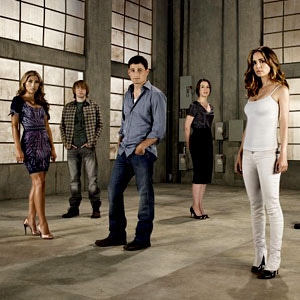 Frank Ockenfels/ Fox
Just when you thought that your favorite Dollhouse castmembers had vanished into obscurity, never to be heard from again, Dichen Lachman got a job on Torchwood earlier this week, and now a second beloved Dollhouse regular is returning to TV with a role on NBC's prime-time comedy Community.
So which Greendale Community College kid is getting a little lovin' from a Joss Whedon alum we love?
Enver Gjokaj, who played Victor during Dollhouse's brief life, will guest star on Community in episode 17, "Custody Law and Foreign Entanglements," as Lukka, a love interest for Gillian Jacobs' Britta.
The character of Lukka is an "attractive, accent-y, oily Eastern European" fella who uses his finer points to seduce our girl Britta, but Lukka obviously is not exactly as delightful as he appears to be on first meeting.
The episode will most likely air sometime in March.
There's no Dollhouse alum (except maybe Miracle Laurie) who would rather see on TV than Enver. Join us for a celebration of this casting in the comments, won't you?
TWITTER: Follow @JenniferArrow for more TV news.