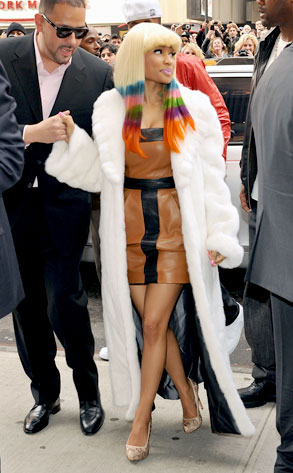 Slaven Vlasic/Getty Images
If you don't know who Nicki Minaj is, you better get with the picture!
The 26-year-old Trinidad-born beauty has worked with everyone from Kanye West and Jay-Z to newcomer Trey Songz. She was most recently rumored to be hooking up with fellow rapper Drake. And just this week, her debut album Pink Friday went platinum.
We sat down with Ms. Minaj for an exclusive interview yesterday when she stopped by E! to film a guest spot on Fashion Police (the episode airs tonight!) Read on to find out what she told us about her love life, having her ass grabbed by Rihanna and possibly working with...Taylor Swift?!