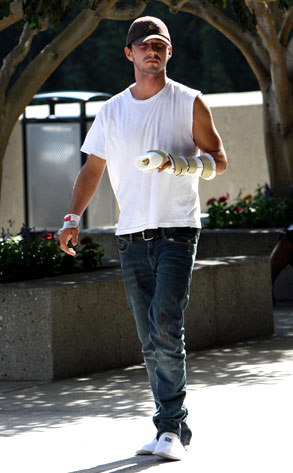 INFphoto.com
There are new details about the extent of Shia LaBeouf's hand injury—and they're not pretty.
LaBeouf's left hand was "crushed" in last weekend's rollover car crash, and the young star will require "regular medical supervision until his doctors clear him to return to work," LaBeouf attorney Michael Norris said in a statement Friday.
There was no new timetable for LaBeouf's return to work on Transformers: Revenge of the Fallen, the big-budget sequel the actor had been shooting. Earlier, pre-"crushed" reports said LaBeouf would be out a month.
A rep for Paramount Pictures, the studio behind the Transformers franchise, told E! News today that "no final decisions have been made" as to whether LaBeouf's injury will be written into the new movie. The studio is prepared to modify its schedule for LaBeouf as needed, the rep said.
Elsewhere, LaBeouf's publicist Melissa Kates declined comment on an Entertainment Tonight report that the 22-year-old had been released from Los Angeles' Cedars-Sinai Medical Center.
LaBeouf's sick-bay journey began last Sunday when, according to the Los Angeles County Sheriff's Department, the pickup truck he was driving collided with a motorist running a red light.
"The other driver may have been traveling upwards of 50 mile per hour, and that driver may not have been looking forward at the time of the accident," Norris said.
The other driver and LaBeouf's passenger, Transformers costar Isabel Lucas, sustained minor injuries.
In the days following the crash, authorities went out of their way to note LaBeouf was not at fault. In his statement, Norris thanked "the many concerned citizens who have stepped forward to provide information regarding this collision."
LaBeouf still faces a misdemeanor DUI charge as officers responding to the crash found the injured actor was, the sheriff's department said, "exhibiting obvious signs of intoxication."
The recuperating LaBeouf, late of Indiana Jones and the Kingdom of the Crystal Skull, has yet to be arraigned on the charge.
Transformers: Revenge of the Fallen, the sequel to 2007's Transformers, has been set for a June 2009 release.
(Originally published Aug. 1, 2008 at 7:46 p.m. PT.)