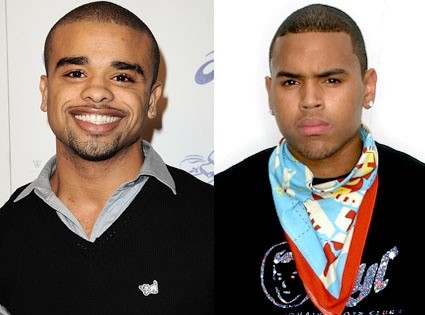 F Micelotta/TCA 2008/Getty Images; Jason LaVeris/FilmMagic
Well, it's safe to say Chris Brown's anger-management classes didn't offer any lessons on how to handle yourself on Twitter.
Because a comment from rapper Raz, formerly of the group B2K, sent Brown into a defensive rage yesterday, causing him to unleash a series of below-the-belt tweets about homosexuals and victims of molestation…that is, when he wasn't busy throwing around the N-word. Or inserting his foot firmly in mouth.
And he was doing so well, too. Here's what went down…
Yesterday afternoon, Raz sent the following (slightly baiting, but, well, true) tweet out into the world, namechecking both Brown and infamous philanderer/Halle Berry ex Eric Benét: "Im just sittin here Thinking how can n----s like @ebenet @ @ChrisBrown disrespect women as Intelligent as @HalleBerry11 @Rihanna."
Well, that was all it took to get Chris' undivided attention.
"@razb2k n---a you want attention!" he wrote. "Grow up n----a!!! Dick in da ass lil boy…Tell me this @razb2k!! Why when the money was coming in u won't complaining about getting butplugged! #homothug!!!"
Brown's racial- and homophobic-laced tweets referred to Raz's past admission that he was once molested by another man. Way to keep it classy, Chris.
Possibly realizing that he crossed a line, or more likely just doing his bit to stop the onslaught of angry tweets resulting from his disrespectful message, Brown later sent out the following note:
"I'm not homophobic! He's just disrespectful!!!"
Raz, obviously, disagreed.
"Ur not homophobic, ur juz homosexual on the low!" he wrote, going on to clear up Brown's accusations. "Since you took this that far! Dude, I wasn't Raped! What a disrespect to every Kid around the world that has been Molested!!!!!"
He then continued to sink to Brown's level, insinuating that the R&B star was no stranger to male attention—though his, Raz seemed to claim, was solicited.
"@chrisbrown u victimize victims, ur a homophobe, ur on the down low & a woman beater. Merry Christmas & thx 4 showin every1 ur true colors."
Several more back and forths ensued.
"@chrisbrown Is this your way of coming on to me???? Dude im not Gay! I was molested! Stop disrespecting the LGBT community!" Raz wrote. "I heard U say ur mom was abused & this is how u represent urself by disrepectin WOMEN?!"
And then there was this: "@Chrisbrown Do you hit your boyfriend @andre_merritt like you do your women?"
"@razb2k when I need tips on how to demolish my career I'll call ya!!!!!" Brown replied. Funny, he seemed to have that pretty well figured out himself last year.
"Ur a x backup singer!!!!! What do u make? Like $1.99 an hour…This argument lasted longer than your career.
"@razb2k merry christmas. I just gave you 20 thousand more followers.. u shouldve did this first instead of telling the world you got raped."
Yeah, that Chris Brown, such a giver.
Several more incendiary and homophobic-laced exchanges took place before either a publicist or common sense presumably got to Brown, and he seemed to think before sending out at least one tweet.
"BTW…I love all my gay fans and this immature act is not targeted at you!!!! Love."
That should really smooth things over. Especially when it was preceded by, "this is entertaining to me!!!!"
Soon enough, the Twitter war died down, but not before a few more calm words from both sides.
"@chrisbrown how do u defend urself in that manner bro? I forgive u but u hve a lot of pple 2 apologize to.u offended a lot of abused pple…u knw the world is an evil place..so why did you play into wht the pple wanted? My fault 4 bringing up ur past.."
And for Brown's part, he signed off with the following:
"Love all my supporters and people who know my heart. HOMOPHOBE?c'mon, find a better tactic.thats pure ignorance and stupidity. i love everyone."
Everyone? We're thinking there's at least one tweeter he isn't feeling that for. Though that feeling is probably pretty mutual.