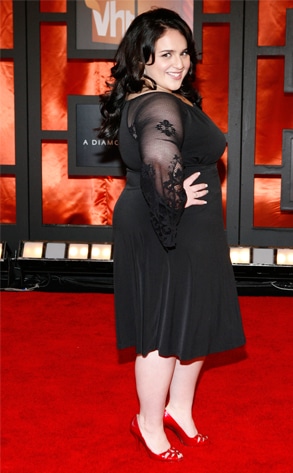 AP Photo/ Matt Sayles
Nikki Blonsky's needs no aerosol to make her hair stand on end today.
The 19-year-old Hairspray star and her father were arrested on assault charges after a dustup with the family of former America's Next Top Model contestant Bianca Golden at the Providenciales International Airport in Turks and Caicos.
"They were involved in an altercation at the airport in the departure lounge," Sgt. Chase of the Turks and Caicos Islands Police Department tells E! News. The skirmish apparently involved a dispute over saved seats.
Blonsky's rep, Teal Cannaday, declined comment on the incident.
Nikki Blonsky was charged with actual bodily harm as well as common assault; her father, Carl, was rung up on a count of inflicting grievous bodily harm.
Bianca Golden was also charged with actual bodily harm and assault.
Golden's mother, Elaine, was hurt so badly she had to be airlifted to a hospital in Aventura, Fla., according to Chase.
The elder Golden was not charged, but the rest of the battling broods were taken in to custody.
Nikki Blonsky appeared in court this morning sporting a neck brace ("she received some kind of injury," says Chase); a judge allowed her to be released on $6,000 cash bail and ordered to return to court Dec. 1. Her father is being held until Aug. 8.
Golden was also freed on bail.
According to Chase, Golden and Nikki Blonsky's charges carry a maximum penalty of two years, while Carl Blonsky could face up to five years in prison.
—Additional reporting by Matt Donnelly