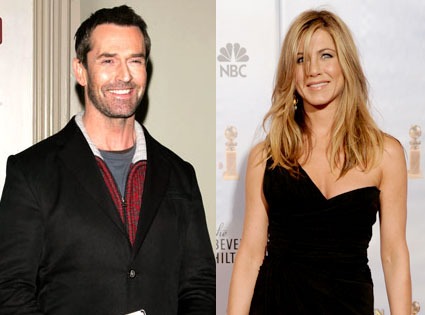 Jim Spellman/WireImage.com; Kevin Winter/Getty Images
Rupert Everett is not one to keep his opinions to himself. Just ask George Clooney. Or Diane Keaton. Or Al Pacino. Or Robert Redford. Or Robert De Niro. Or Colin Firth, who ironically and incidentally commissioned the latest controversial interview with the actor.
And now we can add Jennifer Aniston to the list of stars Everett is getting catty on. Her crime?
Being too likeable. Oh yeah, and sucky.
Ostensibly speaking to BBC Radio 4 about how homosexuals fare in Hollywood, the conversation eventually turned to the question of audience perception and how, exactly, stars are made—Rupert argued that no matter how graciously an audience accepts an actor, it is the business that ultimately decides who will comprise the A-list.
And then he decided to give an example.
"If you look and analyze the careers of many, many stars, you'll find that they're mostly sustained by the business," he said. "I'm not going to start naming names of people whose films have not succeeded at the box office, but you'll find there's lots of women and lots of men in the business that the powers that be decide are right for their business, and they'll stand with them for quite a long time."
Right about then was when he decided he would be OK naming a name or two after all.
"OK, something will go wrong, like Jennifer Aniston will have one too many total flops, but she's still a member of that club, and she will still manage to…like a star forming in the universe, things will swirl around her and it will suddenly solidify into another vital tasteless romcom, you know, a little glitter next to the Crab Nebula."
Rude? Obviously. Bitter? Undoubtedly. Though in his defense, neither The Switch, The Bounty Hunter, Love Happens nor Management exactly set the box office ablaze. But then again, romantic comedies are relatively cheap to make and therefore don't have to net nine figures to be considered successes.
Oh, and in Jennifer Aniston's defense: Marley & Me. $143 million. One of the most popular actresses in the world. Great hair. A face that moves. Deal with it, Rupert.
Of course, Everett still had a little venom left in him for the rest of the interview, going on to call out presumptive Oscar favorite Colin Firth.
As the conversation got back on track, Everett was asked whether or not The King's Speech star had taken roles away from gay men.
"Colin Firth I don't think was at all good in Mamma Mia!," Everett said. "You know, I would have thought it was almost a careericide.
"On the other hand, I think his performance in A Single Man was the best performance of his life."
Aww, see now? Isn't it so much nicer when we all get along?