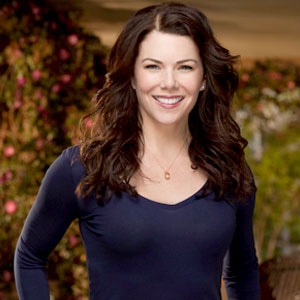 Mitchell Haaseth/NBC
Gilmore Girls-Glee crossover anyone? One of our all-time favorite TV mamas, Lauren Graham, who played Lorelai Gilmore on the WB's Gilmore Girls and now plays Sarah Braverman on NBC's Parenthood, isn't just about the maternal roles.
She also has music on her mind, as the star revealed to us recently when she shared her idea for a Glee guest gig:
When asked if any guest stars are coming up on Parenthood when it returns to NBC on Jan. 4, LG told us, "I don't know. I think we have such a big cast, and there's so much story left to tell with us. Glee can do that fun thing of bringing someone in to do a number. I'd like to be on Glee, singing and dancing, maybe we'll work it that way." Sounds like a plan to us. Ryan Murphy, make it so!
Speaking of Parenthood, how cute is this? Asked if her many years of playing awesome TV moms will prep her to eventually become an awesome mom in real life, Lauren replies: "I feel like if I had kids in real life it would be a torturous existence for them because they'd be like, 'Why aren't you as cool as your mom character? Why do you make us do stuff?' Because Lorelai was a young-in-spirit friend mom, and that's a really dangerous way to be a parent. And Sarah's struggled too. It's like saying if you did 10 years on ER, do you feel prepared to be a doctor? [Laughs.] It doesn't exactly work like that."
Still, something tells us that Graham would be a pretty awesome mom anyway.
Stand by for more scoop from Lauren and the rest of the Parenthood cast on the show's long-awaited return on Jan. 4.