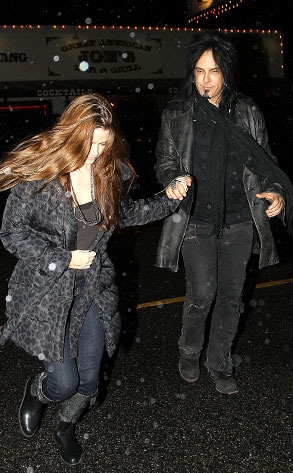 INFphoto.com
Looks like a couple of coffee dates could be turning into something a bit more for Denise Richards and Nikki Sixx.
On Saturday night...
The two were spotted braving the rains for a night out at a Burbank bar and restaurant.
"Had a blast at "Joes American Bar" with fantastic friends,music & @DENISE_RICHARDS," the 52-year-old Mötley Crüe rocker tweeted. "Dive bars rule,even when your sober :)...Hell yeah."
This is the first time the kinda-lovebirds have been spotted together since rumors began last week that they were dating.
Richards, 39, recently told Andy Cohen on his Bravo show, Watch What Happens Live, that she and Sixx were taking things slowly. They actually live down the street from each other. "He's been my neighbor for years," Richards said. "I may have borrowed some sugar from him once or twice."