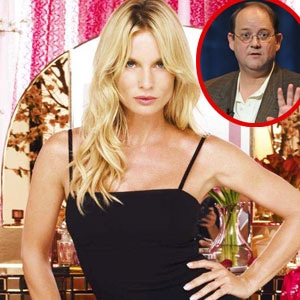 Nicollette Sheridan's legal strategy is as surprising as, well, not getting a slap in the face.
In April of last year, the actress filed suit claiming Desperate Housewives creator Marc Cherry "forcefully hit her with his hand across her face and head." She amended her claim a month later to say it'd been "a light tap."
And now what she's saying?
The ex-DH actress has agreed to drop the worst of the abuse claims in her $20 million lawsuit against Cherry and ABC, reports The Hollywood Reporter. Nicollette's claim of intentional infliction of emotional distress and any claim for emotional and physical damages are now off the metaphorical suing table.
In return, ABC won't require a mental or physical examination on Nicollette. The joint stipulation was filed Friday in Los Angeles Superior Court. The actress can still move forward with the case against Cherry, ABC, and Touchstone Television, but the damages she's seeking have been exponentially minimized.
In case you've forgotten, the actress filed the original lawsuit in April of this year, alleging wrongful termination and assault. Nicollette claimed that in 2008 DH creator Cherry "took her aside and forcefully hit her with his hand across her face and head." In May, she backpedaled and made an amendment to her suit, saying that the hit across her face and head was really a "light tap." And now it appears that the worst of the claims in the lawsuit will disappear altogether.
Who needs a starring role on a nighttime soap opera when you have all this real life drama?