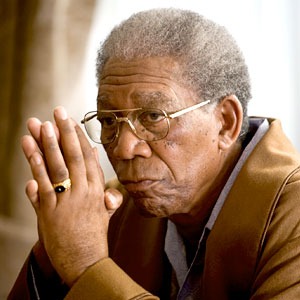 Warner Bros. Entertainment
Like Jeff Goldblum, Miley Cyrus, and Toms Cruise and Hanks before him, at about 5 p.m. ET on Thursday, Morgan Freeman suffered death by Internet.
The problem? The gravitas-emanating 73-year-old actor is still alive and kicking. (Phew.)
So what happened? And just as importantly, who can we blame?
Well, despite initial popular opinion, it wasn't CNN's gaffe. While the cable news network was credited with the original fake death report—which quickly became a trending topic on Twitter in addition to its media pickup—CNN had nothing to do with the claim.
That (dis)honor goes to a Tweeter by the name of @originalcjizzle. Sounds like a reputable source, right?
Just before 5 p.m., he unleashed this message unto the Twitterverse: "RT @CNN: Breaking News: actor Morgan Freeman has passed away in his Burbank home<< wow legendary actor #RIPmorganfreeman."
And thus, from this fake retweet, an Internet hoax was born. Unsurprisingly, it has since been deleted.
CNN obviously never tweeted the original alert, and anyone familiar with the social networking site knows that there's nothing stopping any fool with an Internet connection from simply typing an "RT" ahead of any message they choose, implying (usually truthfully) that it came from another, far more authoritative source.
For its part, CNN was quick to deny the responsibility that the Twitterverse was so eager to bestow upon them.
"CNN did not report Morgan Freeman death," the network tweeted. "Rumor is false. CNN will aggressively investigate this hoax."
This, apparently, was hilarious news for @originalcjizzle.
"CNN is aggressively investigating me," the tweeter, whose real name is C.J. Wiley, wrote.
However, as the story gained traction, Wiley seemed to grow a conscience, telling his followers that he was "a little worried," and responded to a question over whether he thought his "joke" was funny, replied, "Earlier I did. Not, not so much."
"It was a joke that got too out of hand," he wrote. "It was an inside joke between friends. I had no intention of things turning out this way. I make cruel and vulgar jokes & I won't apologize for my sense of humor, but I do apologize for crossing the line. I'm a huge fan of Morgan Freeman and I wish him the best in all future endeavors."
He later went on to inform his followers that he had issued a formal apology, albeit not via Twitter, to Freeman himself or even to CNN.
"Morgan Freeman is alive & well. I just issued a formal apology to a man who identified himself as an employee of the New York Post."
However, it wasn't long before he was back to his unapologetic self.
"There are much more important things to worry about than 1 man's bad joke," he wrote. "If you believe everything u read #GetDaF--kOffTwitter. If you don't have a truly sick sense of humor #GetDaF--kOffTwitter."
And if you revel in fake killing beloved celebrities online, well, you know the hashtag.