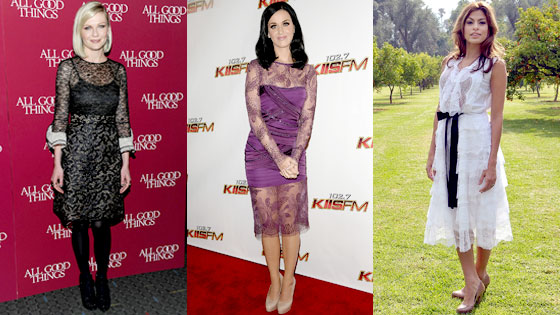 Jason Kempin/Getty Images; Jason LaVeris/FilmMagic; Dominique Charriau/Getty Images
Lace is hot right now and only gonna get more popular as '70s style peaks this spring.
Already, decorative doilies seem to be wrapped around everyone from Kirsten Dunst and Katy Perry to the outta-control curves of Eva Mendes.
So what does our Fashion Police panel think of the fragile fabric?
It's a unanimous gotta have it for Mendes' romantic mode in Oscar de la Renta. But reviews aren't so good for Dunst's retro style—Amish women wouldn't cover up this much says Joan. And nobody's got anything nice to say about Perry's rock and roll way with lace, unless you count hoochie and slutty as compliments.
So are you mad for Mendes' sweet style or wanna make this peekaboo look stop? Weigh in below!