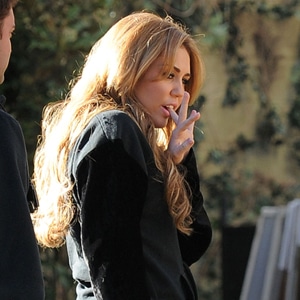 GSI Media
Put this in your bong pipe and smoke it.
Anna Oliver, the Miley Cyrus pal who videotaped her taking a hit of salvia from a bong, was with the 18-year-old starlet in New Orleans just a few days after the tape made its way all over the Web, E! News has learned.
This, despite reports that Cyrus had terminated her friendship with Oliver, who reportedly had the video stolen from her by an unknown person, who then leaked the footage.
Oliver, who has received threatening messages on the Internet after the video went viral, flew from L.A. to Near Orleans to hang out with Cyrus as she began shooting her new movie, So Undercover, on location in Louisiana.
"Anna was on the set earlier this week," says a source on the film. "But then Miley told her she had to go back home because she needs to focus on the movie."
So how is Cyrus coping after the video's release? A source in Louisiana says the actress is "very committed to the movie" and is "trying to turn things around," adding that "she's working out in the gym for two and a half hours a day and hasn't partied at all. She's embarrassed by what has happened. She's very regretful about what she did and about it getting out."
The source says that Miley's mother, Tish, a producer on the movie, is by her daughter's side virtually nonstop. But dad Billy Ray, who has been spending most of his time at the family's home south of Nashville, has been MIA from the set.
Another positive influence: costar Kelly Osbourne.
"Kelly has been through a lot herself and is being a really good friend for her," says the source.
As for reports that Cyrus was partying over the weekend, our source insists it was an alcohol-free social event organized by the producers as a chance for the cast to get to know each other.
"Miley sat in the back area and ate pizza and hung out," says a source who was there. "Now that the movie has started, she's going to bed early every night."