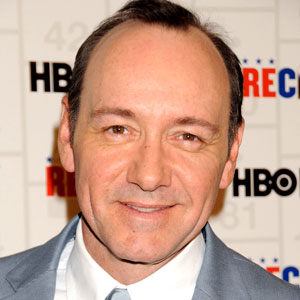 AP Photo/Kristie Bull/Graylock.com
Rumors have always surrounded Kevin Spacey's sexuality. But the actor—who just this week scored a Golden Globe nomination for his work in Casino Jack—has always maintained an enigmatic silence on the subject, remaining above the fray by refusing to address the questions that hover over his love life.
Until now.
As part of the promotion for his new movie, the 51-year-old sat down for an interview with an openly gay reporter from The Daily Beast, who apparently decided it was well past time to go there.
"We gay men have always proudly claimed you as a member of our tribe, and yet you don't proudly claim us back," the interviewer told Spacey. "Why?"
Spacey was, at first, understandably taken aback by the brazenness of the question.
"Look, I might have lived in England for the last several years, but I'm still an American citizen and I have not given up my right to privacy," the actor said.
"People have different reasons for the way they live their lives. You cannot put everyone's reasons in the same box. It's just a line I've never crossed and never will."
He elaborated even further when the conversation turned to the deplorable recent surge of gay teen bullying, and Spacey said he would absolutely be willing to appear in an "It Gets Better" PSA.
"But why is it in this country that kids might think it's OK to bully and make fun of somebody?" he asked. "I'll tell you why, because what do they see in the media happening all the time? In the media they seem to think that's OK, so if we stop using sexuality as a weapon against people, maybe everyone will eventually get cool with it."
Spacey seemed to grow decreasingly cagey—while still not outright confirming or denying anything about his sexuality—as the conversation went on.
"I don't live a lie," he explained. "You have to understand that people who choose not to discuss their personal lives are not living a lie. That is a presumption that people jump to.
"Look, at the end of the day, people have to respect people's differences. I am different than some people would like me to be. I just don't buy into that the personal can be political. I just think that's horses--t. No one's personal life is in the public interest. It's gossip, bottom line. End of story.
"Now some people feed that. They'll go to the trendy restaurants where all the photographers are and then bitch about being famous. But if you don't want to feed that and you want your life to be based around what your work is then it ends there."
Somehow, we think the same can't be said for those rumors.