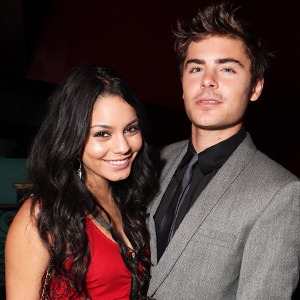 Eric Charbonneau/Getty Images
For as long as Zac Efron and Vanessa Hudgens had dated, one would think the celeb tabloids would have had a field day with the two superstars.
But no—the romance was far from drama-filled.
Or was it? Find out in our latest installment of "Anatomy of a Breakup"...
2005: Efron and Hudgens meet for the first time when they are paired up for their High School Musical audition. They reportedly begin dating about a year later.
2006: The couple takes home a surfboard from the Teen Choice Awards when they win Choice TV Chemistry.
Sept. 6, 2007: Naked pics of Hudgens hit the internet. No matter, Efron sticks by her even as false reports swirl that Disney will drop her from High School Musical 3: Senior Year because of the NSFW scandal.
October 2008: HSM 3 is released. Speculation grows that the romance will now start to fizzle. However, when the two hit Miami at the end of the month, reports claim they're in the Aloha State to get married. Turns out, they were attending the wedding of Efron's manager.
February 2009: Not only do the lovebirds hit the red carpet at the Oscars, they perform during the big show alongside Hugh Jackman and Beyoncé, among others.
August 2009: Again, Hudgens is left red-faced when more topless pics are leaked on the web. Again, Efron sticks by her.
August 2010: The two vacation in Hawaii.
November 2010: Efron visits Hudgens in Hawaii, where she's filming Journey 2: The Mysterious Island. Despite reports they broke up during the trip, they're spotted engaging in some major PDA, including hugs and plenty of smooching.
Dec. 11, 2010: JustJared posts pic of Efron hanging with fellow hunkster, Twilight star Kellan Lutz, at the Saints game in New Orleans, where Efron is shooting The Lucky One.
Dec. 13, 2010: Sources exclusively confirm that the two have split. No third party cheating is involved. Sources say they remain friends.
Dec. 14, 2010: Hudgens turns 22 today. She's set to celebrate her birthday this coming Saturday at Pure nightclub in Las Vegas. A pal says, despite the split, she still plans to attend her Sin City festivities.
—Additional reporting by Ken Baker