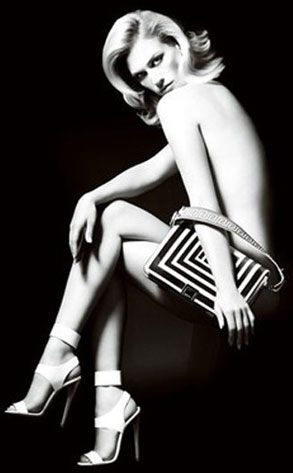 Versace
January Jones is getting back into modeling again. Only this time, the shots are a lot sexier than her Abercrombie days.
Tapped as Versace's latest face, the Mad Men star vamps it up for the spring 2011 campaign in nothing but a pair of ankle-strap stilettos and a handbag, her hair styled in a voluminous retro 'do.
January has rocked some memorable couture by the label before, so she was a natural fit for the brand.
"I am always on the lookout for the next Versace blonde…and in January I feel I have found a perfect Versace woman for the 21st century," Donatella Versace told WWD. "She is chic and elegant but deeply sensual too."
How much you wanna bet prim 'n' proper Betty Draper wouldn't approve?
Oh, screw her. Click in to see more naked January ads and tell us what you think!