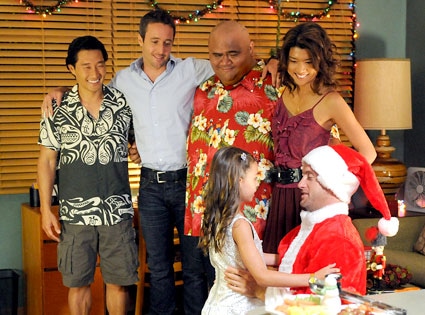 Neil Jacobs/CBS
Hawaii Five-0 reboot boss Peter Lenkov is handing out treats to his characters this Christmas season! We just chatted with the show runner of the hit series and learned that upcoming storylines will be distributed as follows: redemption for Chin Ho (Daniel Dae Kim), family for Danny (Scott Caan), romance for Kono (Grace Park) and an archnemesis for McGarrett (Alex O'Loughlin). How does it all play out? Here's what we can tell you:
Q&A with Peter Lenkov, Hawaii Five-0
What do these two December episodes set up for McGarrett in the second half of the season?
We're finding out that Hesse (James Marsters) is alive—we had sort of left it up in the air, and I think the audience sort of sensed it. Wo Fat (Mark Dacascos ) appears as well, and you realize there's a connection from Wo Fat to Hesse, and really what these episodes do is launch us into the whole mystery of what was in the "champ box" in the second half of the season—that's all going to really play out.
Explain who Wo Fat is for any 23-year-olds reading this who never saw the original series.
He's McGarrett's archnemesis. He's the Joker to Batman, or Lex Luthor to Superman. In the original series, Wo Fat was sort of launched as a character in the pilot and in the last episode 12 years later he was caught by McGarrett and put behind bars, but in the course of 12 seasons he popped up every now and then. [Think of him as] the one-armed man, the guy that always got away.
Drilling down on the character stuff a bit, what's going on with Danny's relationship with Grace and Rachel?
Stan's going to be introduced soon, Rachel's husband. And there's a great story between Danny and him that we have coming up. We're going to meet Danny's brother (Dane Cook) down the road, he's going to come out to Hawaii to visit, and there's a really interesting story involving him.
What about Kono? She's too hot not to be dating someone.
Oh yeah, I agree. Yeah, Kono going to have a love interest—an unconventional love interest.
Unconventional as in what?
Well, just how they meet. It's an unconventional way [how] she meets this guy.
Is he a cop or related to crime in some way?
He's related to crime in some way.
What is coming up for Chin Ho?
There's a resolution to Chin Ho's backstory, in terms of losing his badge in the police department. There's a real resolution to that [of] redemption for him. It plays off how you first met him, and he comes a complete 180 [degrees] by the end of the season.
What's your philosophy, as a show runner, on how much of a procedural series should be devoted towards arc or mythology?
It's still a CBS show; it's still a procedural show at its core but I think they've been very generous with the fact that they're allowing us to do these runners in each episode that have to do with this big arc. A lot of shows don't do that.
Is there anything in this first run of episodes that you would change or something different you want to concentrate in the back nine?
The one thing I really want to get all the writers to pay attention to is to make sure that we give all four leads some juicy stuff to play every week. Sometimes we miss on that. For some reason one character or another falls to the wayside in that episode, and they'll still have stuff to do—it may just be on the plot—but I want to make sure we mine their characters week to week, because I really truly believe that people return to the TV shows for the characters...especially this day and age. I think with all these great shows out there your competition really is character, and that's what makes shows stand out. I think that's for us [as writers and producers] what we want to pay closest attention to. 
Is there anything else you want to tell the fans to look for in what's coming up?
Our characters are really getting defined, and all the questions you may have had early in the season are all going to start to be answered by the end of the season. 
Are you guys happy with the new Five-0? What do you want to see in the second half of season one? 
TWITTER: Follow @JenniferArrow for more on Hawaii Five-0!