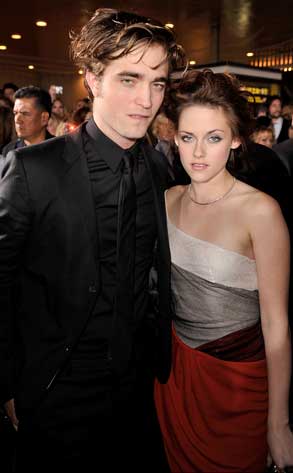 Kevin Winter/Getty Images
The Breaking Dawn cast got some much deserved free time out in Baton Rouge, La., recently, hitting up Fleming's Prime Steakhouse and Wine Bar.
"It was a lot of the cast and crew," a source who was also at the restaurant confirms to E!. "They were in the private back room and seemed in great spirits. Everyone had a really great time."
This obviously included Kristen Stewart and Robert Pattinson, who make no effort to hide their relaysh these days.
Here's the PDA scoop!
"They were sitting down and talking together most of the dinner," dishes our insider who snooped at what was taking place in the private digs. "Wherever Kristen was, he was, and visa-versa."
"[Rob and Kristen] were holding hands at some point, and when they got up to mingle with everyone for a bit he kept his hand on her back," adds the source. "They were really cute. And no one in attendance seemed surprised at their affection."
Jeez, maybe that's because Robsten was so on the moment they first met while making out on Catherine Hardwicke's bed!
With each movie the couple has become increasingly more public with their romance, aside from blabbing about it in the media of course.
And since we have been lucky enough to witness such cuddlefests before, we're sure this dinner was no different.
Love it, or love it?