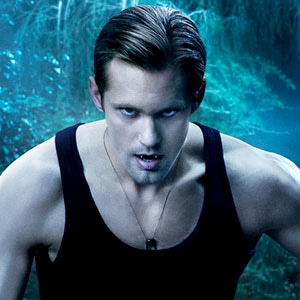 Jeff Riedel /HBO
Dear Santa,
Can you please bring us the new season of True Blood already!
We are so missing Bon Temps right now—especially Alexander Skarsgård's acting nakedness…
While everyone involved with the show is pretty much tight-lipped about what to expect in season four, we have now doubt Alan Ball will have Skarsgård stripping down again.
"He was once naked for about eight hours and he's completely comfortable with it," says Kristin Bauer, who plays Eric's devilish sidekick Pam. "He's Swedish. My husband's band toured in Sweden and he said that just how it is. There's no puritanical background there. It's nice because it makes all of us more comfortable with it."
Bauer says there's no update on Skarsgård slipping into pink spandex on the show like his character does in the Charlaine Harris' original Sookie Stackhouse book series. "He's not in pink spandex yet," she said. "If it doesn't happen, I'm going to just beg him to do it just for me."
As for Bauer herself getting naked again, she's already preparing for it. "When I'm on hiatus I never go to the gym—never!" she admitted. "But after my first wardrobe fitting, I go four days a week."
Sadly, season four isn't set to premiere until the summer!