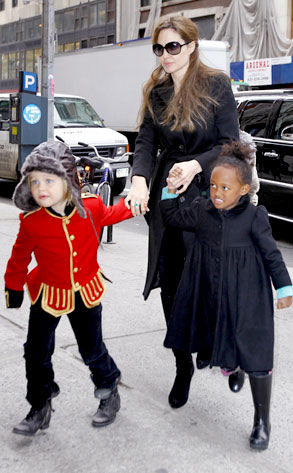 INFphoto.com
Seriously, how cute are Angelina Jolie and Brad Pitt's kids?
Shiloh, Zahara and their mom ventured forth in New York City to hit their favorite midtown art supply store, and the results were pretty artful themselves. (Big brothers Pax and Maddox were also on this expedition, but managed to keep a lower profile.)
While Zahara opted for a sophisticated neo-Victorian look (with matching Wellingtons), Shiloh lightly charged ahead (while still holding her mother's hand) in a military jacket and aviator hat.
Totally steampunk style moves, ladies. There hasn't been this much dress-up fun since Halloween.
(Originally published Dec. 7, 2010, at 6 p.m. PT)