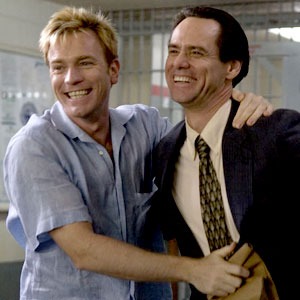 Roadside Attractions
Regarding the flick I Love You Philip Morris: How come so many straight celebs play gay for pay? Aren't there any gay actors out there to fill these roles?
—Ricardo R., via Facebook
Well, sure. There's Rupert Everett, and Neil Patrick Harris, and that kid from Glee, and so forth.
But do you know what's wrong with those folks?
They can act, and people love them. But they can't necessarily secure the kind of mega-money needed to finance a big movie. And their names may be big in certain circles—fans of How I Met Your Mother, say—but not massive enough to sell millions of movie tickets.
Meanwhile, let's look at Ewan McGregor and Jim Carrey, the stars of I Love You Phillip Morris. Carrey is nowhere near the star he once was, and McGregor isn't a household name like Brad Pitt or Johnny Depp. But he has a big enough name to attract financing, mostly because of his participation in big budget films like the later Star Wars trilogy and Moulin Rouge.
Of course, if more A-list actors came out of the closet, we may not have reasons to write columns like these. Want more on this? Of course you do. Find it here, in my latest podcast.