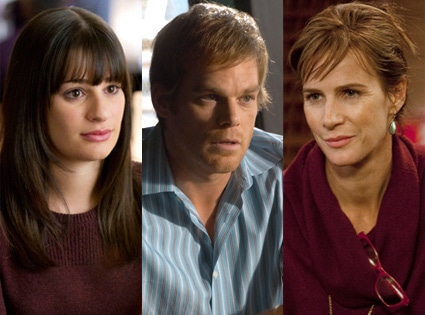 Justin Lubin/FOX; Randy Tepper/Showtime; Randy Holmes/ABC
Hello heartbreak!
You Finn and Rachel fans of Glee are still reeling from the latest episode, so we're tackling that in our latest roundup of TV scoop—as well as the word on Dexter (the big finale is Sunday!), Brothers & Sisters (does anyone know their real bio-parents on this show?!), 90210, Supernatural, The Vampire Diaries, The Office and more!
Dig in...
Devin: Any new scoop on Steve Carell leaving The Office?
Paging Stephen Colbert! B.J. Novak, aka sometime Office writer/producer and full-time Office d-bag Ryan is hoping Steve Carell's old Daily Show pal will join the Dunder Mifflin crew. However, it's pretty unlikely, all things considered. (He shoots his show, The Colbert Report, four nights a week on the East Coast—you know, that little glitch.) "We may have a bunch of candidates and part of the fun will be to see them going through that on-air," he told us at Variety's Power of Comedy event Sunday night. And while it's "a very strong possibility" that someone will be promoted internally, don't expect it to be Ryan. "I don't think Ryan is going to have a strong case to make," he laughs, "but maybe he'll pair up as a team with Kelly (Mindy Kaling) and see if they can do a twosome."
AJ: Any news on Detroit 1-8-7? I'm loving the show! Especially Fitch and Sanchez and their chemistry. Is there any hope of them getting together? How about the series' future?
Our extra-stealthy sources are keeping mum on any Detroit 1-8-7 romances, but we can tell you that contrary to what you may have heard, ABC's frosh series is not canceled, is currently in production and is still very much in contention for next fall's schedule. So take that, rumor mill! We're hearing the next few episodes are pretty crazy, too, so if you're a fan of Detroit, you should really tune in. 
@JackieG927 (via Twitter): To offset my anger at the Finchel breakup can you find out something about Quinn & Puck? Please!!
Hate to be the bearer of bad (worse?) news, but the fantabulous Harry Shum Jr. (Mike Chang) stopped by our studio a few days ago (story/video coming soon) and he told me that the teeny silver lining of the Finn and Rachel break up is that "at least we'll get some Puckleberry." Whether that means as friends, friends with benefits or more remains to be seen, but it certainly sounds as though Puck and Rachel may have something naughty in the works. As always, my shoulder is here for you to cry on!
Stephanie in New York: Finn/Rachel fans need some scoop. We were totally blindsided by the breakup! There are so many rumors floating right now, so help us out. Any hope for Finn and Rachel in the Christmas episode? In the near future?
There is tons of Rachel and Finn coming up on Glee, but unfortunately for you Finnchel fans, it's all Rachel and Finn angst. (Sad trombone.) Trust us, in the grand scheme of TV things, going on a break and exchanging longing, lonely glances across the choir room is not the worst thing that could happen to a couple. As for the Christmas episode Rachel is headlining not one but two sad holiday songs: "Merry Christmas, Darling" and "Last Christmas," so prepare to suffer through some juicy Finnchel angst before it comes time for the nearly inevitable Finnchel reconnection.
@dancelivesing (via Twitter): Ryan Murphy said Finn and Rachel would not breakup this season.
For what it's worth, I'm told the plan did change slightly from what it was in the very beginning, but the writers did (sorta) address the voice of the fans with this exchange in the episode: Rachel: "You said you'd never break up with me!" Finn: "I never thought you'd make me feel like this." See, fans, Finn and Rachel know just how you feel!
Quantrell D. Colbert/The CW
@mcmegan (via Twitter): Any Christmas miracles on The Vampire Diaries? Like Stefan getting out of cave and not sleeping with Katherine? You've seen the previews, right?
Let's just say I had a nice, lengthy discussion with Ian Somerhalder today about "cave sex," and it certainly sounds like it's not just "cave first-basery" or "cave hold-handery." Sorry, Stelena fans!
@NAVILEGEND You meet with the gorgeous Ian Smolderhotter today....pretty please TVD scoop.
You mean my baby daddy Ian Smolderhotter? Please use his full title now that he's outed the "truth!" I'm running the interview tomorrow or Wednesday, as that's the day he launches his new foundation. So stand by for one of my favorite interviews evah!
@HeatherMarieWil (via Twitter): What is up with Kitty and the younger man Seth on Brothers & Sisters? Is this a guy who will be sticking around?
Ryan Devlin (Seth) tells us they will develop "something deeper" so look for him to stick around for awhile! (Lucky girl.)
Joanna: Brothers & Sisters scoop please! Could there be more surprise bio-drama?!
I'm hearing Sarah starts to question her paternity and Nora gets defensive about when her actual wedding date was. Also, Saul and Jonathon will fight over Saul's jealousy.
Heather: How about something good on One Tree Hill? Maybe something on Naley or Brooke/Julian?
Break out the Rice-a-Roni (is that tacky to throw?): I'm hearing that Brooke and Julian will get married in episode 13. From what I understand, Chad Michael Murray and Hilarie Burton won't be there (that was a long-ago tentative plan) but they are still expected back at some point. 
@CaliDiva (via Twitter): Dexter season finale: Will it wrap things up or leave us cliffhanging?
The good news? Desmond Harrington tells us: "I don't think there's a cliffhanger." The bad news? He's specifically talking about a cliffhanger for his character, Quinn. And this is Dexter so I'd bet good money (seriously, like tens of dollars!) that there will be one. If you missed Desmond's interview, drop what you're doing and read it now here. 
@badasian (via Twitter): Anything juicy you can share for next week's Dexter finale?
Quinn is definitely in deep doo-doo, per Desmond, who points out that along with the blood (Liddy's blood) that hit his foot, "the phone calls that Liddy's made to [Quinn] and he's made to Liddy are obviously on this guy's phone." Whoopsie!
Monica: What are the chances Deb will find out that Dexter is a serial killer in the finale?
Does it not seem she's thisclose and totally warming to the idea? And obviously, Quinn is even closer. Desmond tells me "Honestly, I don't think Quinn would have a problem with justice being served the way Dexter does it…" (!!!) But he adds: "I honestly don't think that someone could be very close to him [and know the truth]. I think there could be a don't-ask-don't-tell thing but I don't think someone could be particularly [close] and know the depths to which he's killed." 
Matt: Any other Dexter finale news?
Rita's cutesy kids Astor (Christina Robinson) and Cody (Preston Bailey) will return for a sweet (and short-lived) reunion with step-daddy Dexter.
@Kim_D09 (via Twitter): Now that we won the TV Guide cover poll, can we get some Supernatural dish?
You can have anything you want, I'm so impressed with you fans! I'm told that Death will come back and Dean makes a deal with him for Sam's soul, but Dean has to be Death for 24 hours.
Zoe: Tell me about Justified!!
OK!! Good news for you fans of Raylan (Timothy Olyphant) and Winona's (Natalie Zea) relationship. Raylan's protective ex-husband/sometime-lover instincts are activated in episode six, when Winona happens to be at a bank during a robbery, and one of the bad guys roughs her up. Look for Raylan to deliver some delicious Southern vengeance on her behalf. Yummy.
Jane: Any scoop about the final days of Medium?
The series finale of Medium, which is called "Me Without You," includes flashforwards to the lives of the children in the future, including a married adult version of one of the girls. Awww…our little DuBois babies are all growed up!
Braedyn: The Big Bang Theory?
Hope those nerds are good at geometry, because it's time for a love triangle! Producers are casting for a tall dude to play Bernadette's (Melissa Rouch) ex-boyfriend, whose presence causes a reaction from Bernadette's current boyfriend, the not-so-very-tall Howard (Simon Helberg).
Dinorath: Any chance Olivia gets Calvin back on Law & Order: SVU?
Wouldn't we all like to know—Liv's like the best stand-in mom ever, right?! So we went straight to Law & Order: SVU show runner Neal Baer with your question, and being the tight-lipped king he is, he would only say: "There's always hope!" Ever the optimists, we're choosing to believe that what he really meant to say was yes, Olivia and Calvin "Benson" will reunite sooner than later. What about you?
@H50net (via Twitter): Gimme gimme gimme some Hawaii Five-0, please!
Now that we've met Danno's ex, Rachel (she of scary-ringtone fame), we're going to meet Mr. Rachel! In episode 14 we'll meet Grace's stepfather, who needs help from the authorities after misdeeds on his part put Grace and Rachel in danger. Danny and McGarrett intervene, naturally—can't wait! P.S. We're working on a chat with the producers, so if you have more H50 Q's, post in the comments or email them to tvdiva@eonline.com.
@danadoestv (via Twitter): Any progress on Brennan and Booth finally getting together on Bones?
There's good news and bad news in Thursday's episode of Bones. The good news is this particular investigation hits close to home and Brennan realizes she regrets not giving Booth a chance. Emotional revelations are good, right? The bad news is Booth still has that pesky serious girlfriend hanging around. Don't worry, it's not all tears and heartbreak, Brennan has an awesome new BFF to lean on. 
ChickenLady: No Ordinary Family?
NOF is introducing a supervillain by the name of Roy Minor. He's introduced as being the dad of one of Daphne's high school friends, but he quickly turns capital-E EEEEeevil. (How are you liking this show these days, folks? I'm hearing some surprising grumbles about it from some of you…)
Lauren: I heard that Autumn Reeser is pregnant. Any idea how that will affect her character on No Ordinary Family?
Word on the street is that The Powers That Be over on No Ordinary Family are figuring that out as I type. It's possible Autumn's pregnancy will be written into the show, or maybe producers will go the way most TV pregnancies and just hide the bump behind megasized purses and kitchen counters. Which would you prefer?
@chachithegreat (via Twitter): Fringe scoop, please.
Hey, remember when Walter and Belly tortured children for a living? We're flashing back to the past again on Fringe in episode 15, to explore how young Olivia survived the experimentation in Jacksonville.
@timegoesaway (via Twitter): Psych! Specifically, Shawn/Juliet. More specifically, Yin/Yang finale angst.
First, a metaphor: Juliet is Yin to Shawn's Yang; now that they've connected, nothing will tear them apart. Not even the serial killer Mr. Yang (Ally Sheedy), who—to be specific—returns Dec. 22 in the conclusion to the Yin-Yang trilogy, "Yang 3 in 2D." Star James Roday told us "everything comes out in the wash" and "we find out who Mr. Yin is"—with a little help from one of his alleged victims, Mena Suvari. Also returning are Shawn's mom (the lovely Cybill Shepherd) and Mary Lightly's Jimmi Simpson—in flashbacks? As Mary's twin? (Yin?!) Roday refused to be more specific!
Penny: Any scoop on the next season of Nurse Jackie?
Jackie's daughters (both of them, not just anxious Grace) continue to struggle with serious behavior issues, and the hospital higher-ups are finally be getting hip to Jackie's little drug problem. As Edie Falco says about Jackie's addiction (not to mention her relationship with her troubled daughters), "If you've talked to anybody who's dealt with addiction, that's what happens: You have the things you love and the people you love, but nothing comes before what you need." Ruh-roh!
Eileen: Make It or Break It is my sister's favorite show. Do you have any spoilers I can share with her?
One of the girls is hospitalized after a serious car wreck. 
@BrainiacBBX (via Twitter): When will Navid finally break up with Ade, so he can get with Silver? 
I can tell you that Navid will dump Ade, but can't tell you the timing. Is that enough of a silverlining for ya? (See what I did there…and with pregnancy brain and everything. I know. I'm fancy!)
@desireprima (via Twitter): Can you give me some spoilers about 90210?
Supersurfer Ivy is getting a new man, a skateboarder named Raj, whom we can only assume she meets at the local board shop. Raj is a superenergetic and good-looking college guy, which would make him dreamboat material, except he also has an intriguing secret that shapes the course of his relationship with Ivy.
@thewolveswith (via Twitter): What can you tell us about this week's Nikita?
Nikita will take on a majority of the Division this week. Alone. By hand. And it is crazy good!
Penny: What can you tell us about Life Unexpected?
Keep a big box of tissues handy while watching this week's episode, "Stand Taken". It is arguably the series' best episode, with huge reveals about Lux (and Emma's) past, and an Emmy-worthy performance by Britt Robertson. And the emotionally taxing episode really sets the stage for the final two of the series season. Also, Eric says three little words to Lux…any guesses?
@ohjessiek (via Twitter): Can we get some Cappie/Casey scoop for Greek, please?
Casey will be in a relationship on Greek this season, but we can't reveal the identity of the lucky lad just yet.
—Additional reporting by Jennifer Arrow, Christina Dowling, Megan Masters, Jenna Mullins and Drusilla Moorhouse