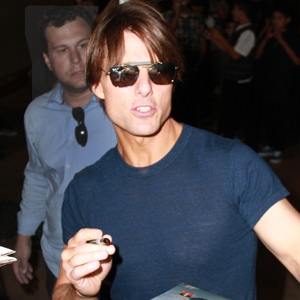 Greg Tidwell; PacificCoastNews.com
Tom Cruise is talking about rocking.
Though I've been reporting on this for a while, I just heard something new from a very reliable source just now. Read on...
Director Adam Shankman confirms Cruise is in talks to join movie adaptation of Rock of Ages, a musical set on the Sunset Strip that uses the tunes of '80s hair bands.
"It's all looking really good," Shankman just told me at Trevor LIVE fundraiser for the Trevor Project.
As much as you might imagine that it was that Risky Business underpants dance that suggested Cruise's rock star credentials, Shankman said it was Les Grossman who started the talk.
"I was really inspired and impressed by him as Les Grossman," he said, "and his willingness to go for it.
"He and I had talked about doing a musical, so I thought I'd talk to him about Rock of Ages."
And, yes, Cruise will sing. "Of course, he will,' Shankman said. "If he's in it, he has to."