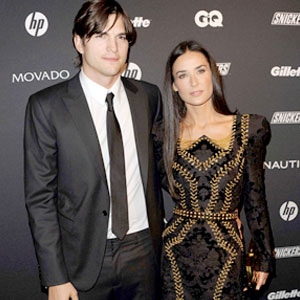 Brian Zak/Sipa Press
He may be a prankster, but Ashton Kutcher isn't thrilled about being punk'd—especially when it comes to a porn company, a sex tape and his alleged mistress.
Gee, what could be wrong with that?
Team Ashton has fired off a cease-and-desist letter to Vivid Entertainment seeking to have his "good name" stripped from any promotional materials for a sex tape starring Brittney Jones.
The video stars Jones, 21, who made headlines last month when she claimed in tabloid interviews that she had sex with Kutcher while his missus, Demi Moore, was out of town. The Hollywood hunk denied the allegation.
Kutcher isn't in the tape, but that didn't stop Vivid from featuring his name on the press release:  
"Vivid has obtained never-before-released footage that shows Brittney engaged in very explicit, uninhibited sex with a former boyfriend. Ashton's fans will undoubtedly enjoy seeing what the star himself may have experienced, in this exclusive video."
That got Kutcher steamed, prompting the letter from his legal eagles insisting.
 "It is clear that the use of our client's name is the principal selling point of the Video, and that Mr. Kutcher's name is being used to lure potential customers to buy the Video and other merchandise which you sell," the letter stated, adding that Vivid is "trading on Mr. Kutcher's good name and reputation for a commercial purpose" and trying to "misappropriate and convert the potential economic value in Mr. Kutcher's identity."
California has laws protecting celebs' "right to publicity," and Kutcher could sue if Vivid refuses to cooperate.
Vivid honcho Steven Hirsch confirms the receipt of the letter and says he has passed it along to his attorneys.
—Reporting by Whitney English