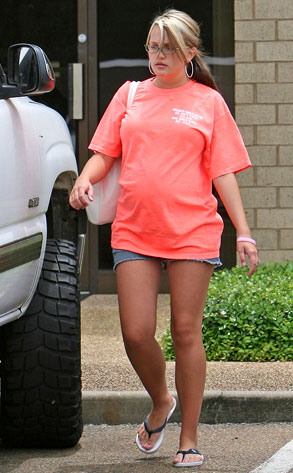 Thornton/Adao/INFphoto.com
The littlest Spears has made way for an even tinier version of herself.
E! News has confirmed that Jamie Lynn Spears and fiancé Casey Aldridge welcomed daughter Maddie Briann this morning, the first child for the young couple.
The tot was born this morning at the Southwest Mississippi Regional Medical Center in McComb, Miss., near the Spears' home base of Kentwood, La., just after 9:30 a.m.
Jamie Lynn Spears, 17, and Aldridge, 19, arrived at the hospital at 5 a.m. Her parents, Jamie and Lynne, arrived at 5:45 a.m., followed by siblings Britney and Bryan at about 8.
In a statement to OK! magazine, which paid for exclusive rights to the newborn's first photo spread, a family rep said: "Both mom and baby are healthy and happy. They are surrounded by their close relatives."
The tyke tipped the scales at 7 pounds, 11 ounces.
After spending the early morning by her sister's side, a weary Britney left the hospital about an hour after the birth and headed back to her mother's house in Kentwood, according to an eyewitness.
Jamie Lynn and her betrothed recently purchased a new home on a five-acre lot in nearby Liberty, where they've been busy putting the finishing touches on their daughter's pink, brown and metallic-green nursery.
In town to greet her new niece was aunt Britney, who flew in from Los Angeles along with dad Jamie and brother Bryan on Wednesday morning. The trio touched down in New Orleans and drove to matriarch Lynne Spears' home in Kentwood, Britney's first visit to her hometown since Jamie Lynn's baby shower in early May.
While still mainly known for being Britney's sis and the star of the Nickelodeon sitcom Zoey 101, Jamie Lynn confirmed that she was about 12 weeks pregnant in December, telling OK! magazine, "I was in complete and total shock and so was [Aldridge]."
"As soon as I found out for sure from the doctor, I took two weeks to myself where I didn't tell anybody," she said. "Only one of my friends knew because I needed to work out what I would do for myself before I let anyone's opinion affect my decision. Then I told my parents and my friends. I was scared, but I had to do what was right for me."
Despite rumors of trouble in paradise, the teenagers got engaged in March, with plans to tie the knot after their baby arrived.
(Originally published June 19, 2008, at 8:57 a.m. PT.)