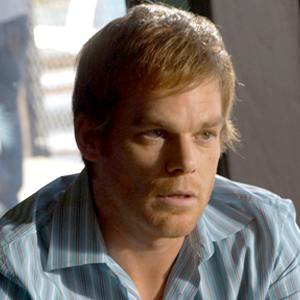 Randy Tepper/Showtime
Good news, Dexter Morgan (Michael C. Hall) fans! Inside sources tell us that Showtime's fully addictive serial-killer series Dexter has been picked up for a sixth season, and the official announcement is coming soon. But are execs at the net planning for year six to be the end? Only we can tell you that:
The renewal is a one-year deal that will not billed as the final season, meaning that a seventh season is likely and possible, but that contracts with key talent must first be worked out and officially "reupped" between years six and seven.
Only two episodes of season five remain, as Dex and his "barrel girl" partner Lumen (Julia Stiles) continue to hunt down Miami's latest gang of diabolical fiends while distracting local law enforcement from their own misdeeds. We just talked to Quinn himself, Desmond Harrington, for scoop on the final two, so check back a bit later for the (kinda disturbing) goods.
Are you enjoying season five so far? What would you like to see for Dexter in season six?