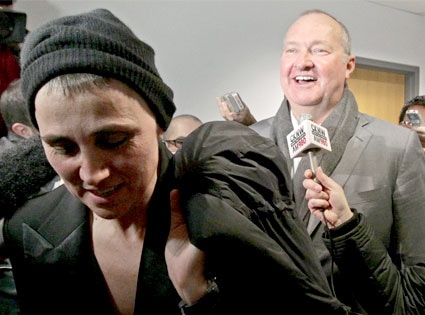 AP Photo/The Canadian Press, Darryl Dyck
Let's get this out of the way: Randy Quaid and wife Evi are the hot messes du jour, and while we hope they get better (or at least less paranoid) soon, their continual insistence on parading their freak show lives in front of the press is not exactly helping things.
So when they go on TV and talk about the "star whackers" out to get them, or agree to get profiled in Vanity Fair and admit that they don't use cell phones (too easy to track), rail that Jeremy Piven's sushi-induced mercury-poisoning was an "orchestrated hit," share that Evi once sent a naked photo of herself holding a handgun to a production team, and reveal that Quaid was banned for life from the Actors Equity Association for slapping a costar four times and referring to an actress's "gynecological instruments," they're not doing themselves any favors.
But they are revealing the depths of their kookiness. Here are the five (latest) craziest things we learned about the Quaids…
1. They've been living in their car. Randy and Evi admitted to Vanity Fair that they do in fact live in their four-door, though Evi attempted to clarify that they did so "only on nights when we're too terrified to leave our stuff or don't feel secure." Or don't feel like skipping out on another hotel bill?
There is, however, a bright side to their vehicular domicile: it's a Prius! "This whole ordeal has forced us to become incredibly green," Evi said.
"Priuses are deceptively roomy," Randy added. "We're tall people, and the leg room is important." Less so, apparently, is a place for their dog Doji to relieve himself, as he too lives with them in the car, which, according to the reporter, smells of fast food, cigars and dog pee. Surely there are more sanitary ways to go green?
2. His estrangement from brother Dennis Quaid began over an Andy Warhol painting. Wrap your head around this tidbit: between 1991 and 2001, Meg Ryan and Evi Quaid were sisters-in-law. And then the whole Ryan-Russell Crowe thing happened, and suddenly they weren't sisters-in-law. In the division of their assets, Meg made off with the lion's share of artwork and suddenly Dennis Quaid was left with bare walls. Following? Good. Then enter Evi Quaid's decision to bring over an Andy Warhol painting titled Russell Means after the Native American actor and activist. Can you guess who didn't appreciate the moniker connotation?
"I didn't even think consciously 'what Russell means,' " Evi said. "It turned into, like, a play. It was insane, with Dennis screaming at me and Randy screaming at Dennis and their mother screaming at both of them. It was kind of funny, to tell the truth."
Not to Randy, who only had this to say of the incident: "I love my brother. I miss my brother."
3. Meg Ryan, Madonna and Jennifer Grey are all jealous of Evi Quaid. At least, according to Evi Quaid they are (so consider the source). Though the Vanity Fair article cites former friends of Evi's proclaiming that Randy's wife was (in a much more believable turn of events) obviously jealous of Meg, since "Meg was a star and Evi wanted to be the star," Evi remembers things a little bit differently.
"She was always copying my style, my clothes, my furniture, or just things I would do."
Other stars who simply couldn't curtail the green monster when Evi was around were Madonna and Jennifer Grey. Apparently. When Evi and Randy met, Randy was working on Bloodhounds of Broadway, a film starring Madonna and Jennifer Grey, who, per Evi, were both jealous of the pairing.
"Madonna was funny," Evi said. "She tried to seduce Randy away. She said, 'Randy, don't you wanna come back? Jennifer and I, we're gonna have a ménage.'" Just like Meg and Dennis, Madonna and Jennifer refused to comment on the claims.
4. They make Sarah Palin look like a geographical genius. At least she could see Russia from her house. The Quaids couldn't even see Siberia with the help of every map in the world. While the couple ended up in Canada, our great neighbor to the north wasn't actually their first choice for a hideout. According to Evi, the couple really wanted to drive to Siberia, but they "couldn't figure out how to get there." Giving up on the idea that's it's possible to drive there from Santa Barbara might've been a good place to start.
5. Theirs has always been a whirlwind romance. And they said it wouldn't last. The duo first crossed paths in 1988 on the set of Bloodhounds of Broadway; Randy was an actor and Evi was a production assistant tasked with driving Randy to work. It's safe to say he was immediately smitten, seeing as how he proposed to her the same night they met at a Chinese restaurant in New Jersey.
"Then we went home and brushed our teeth and f--ked," Evi recalled.
"When we brushed our teeth it was like we'd been doing it all our lives. There was a kinship," Randy added. And they say romance is dead.