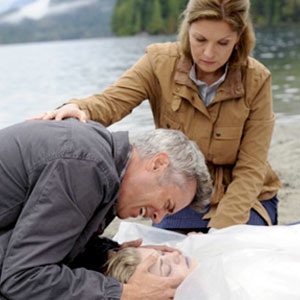 NBC Universal, Inc.
"She's dead...wrapped in plastic."
Thus were Twin Peaks audiences first introduced to murdered homecoming queen Laura Palmer when the mysterious, peculiar, perverse and hilarious series premiered on ABC (!) 20 years ago.
Tonight on Psych, this iconic scene is reenacted with both humor and reverence in what star (and episode cowriter) James Roday calls his "love letter" to David Lynch's cult classic.
For more from the stars of "Dual Spires"—including the original T.P. castmembers who guest on the show—backwards dance your way in here...
As devoted fans of both shows, we've been pestering Roday & Co. since we first learned of the planned homage during 2009's Comic-Con.
Roday calls Twin Peaks his "favorite show of all time—arguably the greatest show of all time," but he was just a teenager when it first aired. "My life had already been changed by seeing Blue Velvet, and I was actually one of a handful of 13-year-olds around the country who were anxiously awaiting David Lynch coming to television.
"I was a big Bobby Briggs fan," he added. "He was quarterback of the football team, and I played football. But he was also cool, and he was a rebel, and I actually tied my shirts around my waist for a while. Guilty as charged."
So when Roday encountered Dana Ashbrook, who played Briggs, on the set of another TV series, "I totally ambushed him and stalked him into becoming my friend"—and he easily persuaded him to guest on "Dual Spires." Dana and Laura Palmer herself, Sheryl Lee, find the body of Paula Merrell (get it?). Sheryl describes that experience as "surreal": "It was actually a lot more emotional than I expected it to be," she told us Monday night at The Paley Center for Media celebration of "Dual Spires."
"We always knew we wanted Sheryl to discover the body," Roday said. "We took [that scene] really seriously, and it was weird."
Ray Wise, who played Leland Palmer, Laura's father and [spoiler alert!] killer, guested last season on Psych as Father Wesley in an Exorcist-themed ep, and Roday said it was a "no-brainer and undebatable" to bring him back. "It was like a high school reunion," Ray told us last night about working again with his TV "family."
Log Lady Catherine Coulson, who reprises her role tonight—sort of—agrees. "It was just terrific... All the young people who were teenagers or in their twenties are now grown up and have children and we just had the best time with the reunion with each other."
One of those young people was Sherilynn Fenn as plaid-skirted, cherry-lovin' tease Audrey Horne. "We wanted a librarian to be quirky and drink cherry soda" in "Dual Spires," Roday said, and Sherilynn plays the part with Audrey's wild abandon.
Notably MIA is Kyle MacLachlan, Twin Peaks' FBI agent and pie, black coffee and chocolate bunny enthusiast. Explains executive producer Chris Henze: "We realized Kyle is always working, and we weren't sure if it was something he would jump into right away. And then we realized also that our Shawn and Gus were playing the role of Agent Cooper in this situation, so that worked out for the best." (Look for Lassie to have a very special Coop moment though.)
So how does the man behind the myth, David Lynch himself, feel about this tribute? "I just heard from David the other day," Catherine Coulson told us, "and he was very happy that people were still paying attention to Twin Peaks, he really was." After watching the screener, she added, "I'm so relieved—I think David Lynch and [cocreator] Mark Frost would be pleased. It's a real tribute to an amazing show, there's a whole new generation of people tuning into Twin Peaks who are also Psych fans. This is going to be a great night of television for a lot of people out there."
"Know that it comes from a place unadulterated love that one show has for another," Roday said.
It's a damn fine episode—chock-full of delicious Twin Peaks Easter eggs and one of the best Gus nicknames to date—so make sure you tune in to USA tonight at 10 p.m.
Meanwhile, check out our video interviews with Laura and Leland Palmer, the Log Lady and Psych star James Roday below!