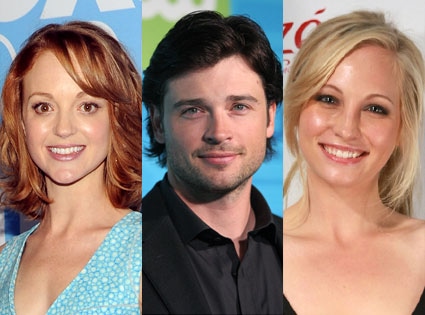 Jason Kempin/Getty Images; Mike Coppola/FilmMagic; Michael Bezjian/WireImage.com
You asked stuff. We answered stuff.
How awesome is that?
Time for our latest roundup of TV scoop, with the goods on Glee, Smallville, Sons of Anarchy, The Vampire Diaries, The Office, Cougar Town, Friday Night Lights, Pretty Little Liars, CSI, SVU and...well, we really need to pause here to take a breath so just jump right in and get the exclusive goodies will ya?
Ben: Any idea what we'll see NBC's new shows Friends with Benefits or Love Bites? They weren't on the January lineup.
Fret not, tubers. Both shows will see the light of day. There just wasn't enough room on NBC's winter docket to include all of their new goodies, but Friends with Benefits and Love Bites are both in production with tons of eps already in the can. So we'll just have to wait a teensy bit longer to see our faves Becki Newton, Ryan Hansen and Greg Grunberg back on the small screen. Fact: It's totally worth it.
Portia: Any chance that Terriers will get a second season?
A second round of Terriers is pretty unlikely—the ratings are terrible but we're whole-heartedly pulling for it. The Terriers season finale, which airs Wednesday, introduces a great new villain—a fella we have long loved around WWK HQ and whom we generally call "the world's hottest albino." (Hint: He was on Desperate Housewives.) We're crossing our fingers that Donal Logue, Michael Raymond-James and aforementioned gorgeous albino make it back for season two.
Ned: What's the scoop on Matt LeBlanc's new show? Have you seen it?
I've seen three episodes of Episodes and I'm not totally sold yet, but it is pretty endearing and watchable. Better than Joey. OK, a LOT better than Joey. Matt LeBlanc seems to have no qualms about playing a less-than-flattering version of himself so kudos for the self-deprecation. This one seems to be a slow burn, rather than a big mainstream hit right out of the gate. Episodes starts Jan 9 on Showtime.
@Shanwink (via Twitter): True Blood goss!
Episode two of season four (which premieres Sunday, June 12!), is set at Fangtasia and called "You Smell Like Dinner." Fangbanger smorgasbord, anyone? A source on set also told me they are building some sort of bakery and/or pie shop for the upcoming season three. Oh God. Maybe Strawberry Shortcake's nemesis is the new big bad?! They're also building a "weird looking metal shack" and allowing Sam (Sam Trammell) to go more grey this season. You heard it here first, people! (Sorry if we just ruined the whole season for you.)
M in Carlsbad, Calif.: What ever happened to that Glee contest last summer to find some undiscovered talent to be new characters on the show? I never heard if they found anyone that way.
They didn't pick anyone, but only because they didn't actually hold the contest last summer after all! The Glee reality show is starting this spring (for realsies this time), and you can participate if you want—check out thegleeproject.oxygen.com for the dish on how to audition!
@PerfectAnomaly (via Twitter) CSI: NY scoop that doesn't have anything to do with Danny and Lindsay as a couple!
Ask (complain?) and ye shall receive. We are hitting the set this Thursday, so if you have any specific questions, email (tvdiva@eonline.com) or tweet (@kristindsantos) them to me.

@kid_from_nyc (via Twitter): Hellcats scoop, please.
It's your lucky day, because we're also talking to your favorite leading lady Aly M tomorrow. Q's?
Rose in Toledo, Ohio: Where the frak is Caprica? Why hasn't Syfy been airing new episodes and when will new episodes come back on?
Syfy hasn't been airing episodes because, well, it canceled the show. (Sorry to be the bearer of bad old news!) Now the new news: There are five unaired episodes still in the bank, and those can be seen in a marathon airing on Syfy on Jan. 4, 2010 from 6-11 p.m.
Laura in Knoxville, Tenn.: Am I the only person watching The Good Guys? I think it is hilarious! Has it been canceled?
Yes, sadly, The Good Guys has been canceled. The last punks will be busted on Friday, Dec. 10, and then, lucky for casting directors everywhere, Bradley Whitford and Colin Hanks will again be available for hire.
@Maddieville (via Twitter): Anything about Clark's arc in Smallville, not romance related? Thanks.|
Smallville bosses Kelly Souders and Brian Peterson tell us the second half of the season will really round out Clark's journey. Says Kelly, "We'll see some familiar faces again, and as we've always said, Clark has to get closer and closer to being Superman. We'll be seeing little hints about that throughout the rest of the season. Adds Brian, "There's also a wink to a Clark-Lois moment in episode 12 (airing early 2011) that the fans have been screaming for!" Bring a throat lozenge. And oops, sorry, crap. That was romance-related, wasn't it? Yipes. And so is the photo I just selected?! Bad TV diva, bad!
Matt: Dexter, please! Please tell me Quinn will survive the season finale.
Oh my god, they're going to kill Quinn?! But she hasn't even kissed Puck yet this season!! Oh wait. Sorry, wrong show. You know there are no guarantees with Dexter (ahem, Rita, ahem), but mortal enemies Dexter and Quinn may actually find some common ground before the season's through. Some bloody, dangerous common ground. And if we say anything else, it'd spoil everything. But I can tell you that I'm talking to Desmond Harrington (Quinn) and possibly Jennifer Carpenter (Deb) tomorrow (hopefully), so if you have Q's, you know where to reach me. (Comments section, @kristindsantos, tvdiva@eonline.com)
@dont_stopmenow: Are Troy and Britta from Community secretly dating?
Keep dreamin' because Britta and Troy are definitely not dating. Secretly or otherwise. But now we're curious, is this a pairing you'd like to see? The chemistry is definitely there, right?!
George Napolitano/FilmMagic
Sandra: Glee, please! Is there any hope for Will and Emma?
And how! It's too early to talk about it yet, but I can tell you that at least one squee-worthy moment is in the works for an upcoming episode. Anyone else missing Finn and Rachel and Will and Emma the past few eps? (I'm a softie. Don't judge.)
@Wild_Child93 (via Twitter): Sons of Anarchy? Mainly interested in Gemma and Tara. :-)
FYI, tomorrow night's Sons of Anarchy episode is the most rewarding finale of the year. Tara (Maggie Siff) has a key part to play in the club's season-ending caper—Jax's once-reluctant girlfriend is all in—and when Gemma gets some bad news, we are treated to another one of Katey Sagal's Emmy-worthy emotional scenes. We actually just talked to show runner Kurt Sutter about what it all means and what's to come, so look for part one of our Q&A tonight, part two will post after the finale airs tomorrow night.
Jessica: Anything cool coming up on The Office?
You know how The Office's Christmas episodes are always epic? Well this year is no exception! First, Holly Flax (Amy Ryan) is finally returning to Dunder Mifflin (which we revealed last month and with her appearance comes not one but two Christmas parties, courtesy of Michael wanting to impress his off-again-soon-to-be-on-again ladylove. Oh, and there's a snowball fight between Jim and Dwight. Looks like Santa is giving us everything we want this year.
Michelle in Michigan: Anything on Parks & Recreation?
Family feud! OK, so Adam Scott's Ben and Amy Poehler's Leslie Knope aren't officially together, and a fight between Ben and Leslie's mom Marlene (Pamela Reed) doesn't technically count as a feud between son-in-law and mother-in-law, but that's what we say is happening in the new episodes of Parks and Recreation, when Marlene wants new school busses and "budget bad cop" Ben says she can't have them. Hilarity ensues, naturally, as Leslie tries to make peace between the warring parties.
@jbomb11 (via Twitter): Any plans to introduce some other family members of the Cul de Sac Crew on Cougar Town?
Sorry, but what you see is what you get for now. There are currently no plans in place to introduce additional family members of Cougar Town's supercool CDSC. Although there is one real-life relative who's pushing for a guest spot: Ian Gomez's (Andy) wife Nia Vardalos! "Absolutely, it's going to happen," Ian tells us. Adds his adorable wifey, "I've just been super booked. [But] I hang around the writer's room sometime saying 'I could play his sister'--I overhint." A source close to the show tells us there's nothing in the works yet, but they're always up for a guest spot, so fingers crossed!
Karen: Anything on Raising Hope? I think is the best new comedies to come along in ages.
Agreed, and in case you needed further proof of Raising Hope's awesomeness, next Tuesday's Christmas episode should do the trick. Ambitious grandma Virginia wants Hope to play baby Jesus in the church's living Nativity scene, and before you know it, the show has found a way to incorporate the Star of Bethlehem, the three wise men bringing gifts and, yes, the true spirit of the season. Watch the Dec. 7 Raising Hope with a box of Kleenex because if you're at all sentimental about the season or the show, you'll cry.
@redsoxnation80 via Twitter: something...anything...PRETTY LITTLE LIARS!!
This looong Pretty Little Liars hiatus is like being tortured by "A", right? We've got some clues about the return episode ("Moments Later," airing Jan. 3) to tide you over (or torment you more): Someone receives a surprise kiss, another girl reveals a huge secret...and "A" visits Hanna in the hospital. Gah! No wonder star Ashley Benson told us, "I think Hanna is going to have a breakdown" when we visited the PLL set last month.
Lily: Any hope of a Julie-Matt reunion before the end of Friday Night Lights?
We can't promise anything, but we have a good feeling...Our boy Matt does get a mention in Wednesday's ep of FNL—it seems Julie's not completely over him yet. Sadly, Julie's devotion to good boy Saracen doesn't keep her from canoodling with a teacher's assistant at her school, and finding out in the most embarrassing way possible that that's not a good idea. (Sidenote: Because we wholeheartedly love FNL we won't mention how every show out there seems to be doing the student/teacher fling thing lately. You're welcome, Jason Katims.)
Kevin: Law & Order: SVU is so good this season. What's coming up?
We haven't seen the last of Maria Bello as the wayward Vivian, who ditched her son and left him in Olivia's care. But unfortunately (as we've seen in the past few episodes) Liv and her new kiddo Calvin are developing quite the bond so her semblance of a homecoming won't be a happy one.
Ainav in Israel: I found a piece of information on the web that episode 11.13 of CSI is called "The Two Mrs. Grissoms"! Now I don't really care much for CSI anymore, but if that's true then I care a whole lot!
It's true! The Mrs. Grissoms in question are Sarah Sidle (the current Mrs. Grissom)...and Grissom's mom! Producers are casting now for the older Mrs. Grissom, who is described as a "strong, confident, intelligent and influential woman has never allowed her lack of hearing to keep her from doing anything she wanted, and has no trouble making her feelings known to one and all." She's a former librarian, who, while being deaf, is fluent in American Sign Language as well as being a capable English speaker. Any ideas for casting other than maybe Marlee Matlin in old-lady makeup?
@jvento via Twitter: I've never seen an episode of Twin Peaks. Will next week's Psych still be enjoyable for people like me?
That depends. Are you a fan of delicious flavor? While Wednesday's "Dual Spires" offers lots of tasty treats for Twin Peaks die-hards, it's really a Gusterrific episode. Dulé Hill steals the spotlight—and not just because the pastry fiend is the only black man in town.
Susan in New York: Please, please, please—I need info about Justified. They must be filming now for the February 2011 season two premiere! Please, give me more!
In season two, look for the show to explore a local Hatfield-McCoy-style feud between the Givens family and the Bennetts. We'll learn a lot more about Raylan's early days in Harlan County, and some old rivals are looking to avenge past wrongs. Meanwhile, Boyd Crowder (Walton Goggins) is out of the pulpit and down in the pit—he's returning to work in the county's famed coal mines. Excited? We sure are!
Marlnie: How about something good on The Vampire Diaries?
This Thursday's episode (yes, it is back this week--praise Jebus!) is not one to be missed. (Dear Kevin and Julie and the powers that be, thank you for not succumbing to the almighty sophomore slump like some other series we know.) The episode is Tyler and Caroline-centric...they are hitting a cave. So romantic! And there is also a full moon coming, which Michael Trevino (Tyler) promises will be a "scary ordeal." I'll have more from Michael and Candice Accola (Caroline) coming for you in the next couple days. Just interviewed them both and fell. Big time.
And if you're wondering if they'll fall for each other, see what they teased here in my E! News segment. More on this to come:
Francesca: Grey's me up please!
We have it on good authority that the Derek-Cristina fishing trip in this Thursday's episode will both a) Cure Cristina (she'll be back at Seattle Grace very soon) and b) be cuteus maximus (that is the technical Latin). And also emotional...so bring your hanky. This episode also stars Scott Foley as a new patient of, and potential love interest for Kim Raver (lucky beyotch). Check out the sneak-peek photos:
Note: We are taking a lot of Spoiler Chat questions via Twitter now, so be sure to send me your Q's @kristindsantos and follow me for updates.
—Additional reporting by Jennifer Arrow, Megan Masters and Drusilla Moorhouse