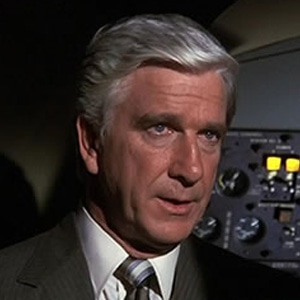 Paramount Pictures
Surely, you can't be serious.
Fans of Leslie Nielsen will most certainly be repeating that classic bit of Airplane! dialogue today (as well as its rejoinder: "I am serious. And don't call me Shirley."). Nielsen, a journeyman actor who later found fame with comedy roles in Airplane! and The Naked Gun series, died late Sunday afternoon of complications from pneumonia, E! News has confirmed. He was 84. 
"We are saddened by the passing of beloved actor Leslie Nielsen, probably best remembered as Lt. Frank Drebin in The Naked Gun series of pictures, but who enjoyed a more than 60 year career in motion pictures and television," a rep for Nielsen's family tells E! News. 
Nielsen passed away in a hospital near his Fort Lauderdale, Fla. home surrounded by his wife and close friends. Nielsen had reportedly been hospitalized for nearly two weeks prior to his death. 
The son of a Royal Canadian Mounted Policeman, the actor got his professional acting start performing in a string of live television shows in New York City. Eventually he headed to Hollywood in hopes of making it big in the movies.
While Nielsen worked often playing straight-laced leading men and the occasional blandly evil malefactor, his most notable film roles in the 1950s and 1960s were in films like Forbidden Planet and Tammy and the Bachelor. He made many television appearances through the 1970s on shows like The Swamp Fox and The Wild Wild West, before finding fame as a comedian in Airplane!, which essentially had him play a version of his straight-laced hero roles in a context that made his work suddenly hilarious. (Nielsen's Airplane! co-star Peter Graves, who got a similar career boost from the film, passed away earlier this year.)
Following the success of Airplane! and The Naked Gun (which sprang from a failed, but funny TV spoof Police Squad!), Nielsen appeared in many more spoofs such as Dracula: Dead and Loving It and Spy Hard. An avid golfer, the actor also released several comic instructional videos, as well.
He was married four times and had two children.
In lieu of flowers, the family requested that donations be made in his name to charitable causes.