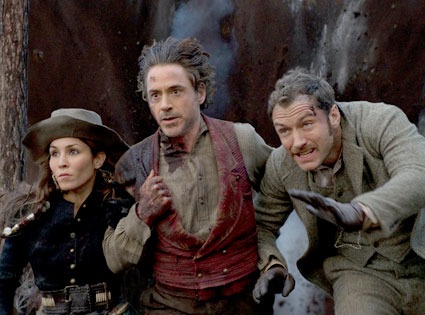 Daniel Smith/Warner Bros.
The dashing British detective (Robert Downey Jr.) and his trusty partner Watson (Jude Law) are back on the case. And this time, they've got some help.
The two have been filming Sherlock Holmes 2, the follow-up to director Guy Ritchie's 2009 reboot of the classic series, and in this new photo, it looks like they've teamed up another capable crime-solver: Noomi Rapace!
That's right, the star of The Girl With the Dragon Tattoo (and The Girl Who Played With Fire and The Girl Who Kicked the Hornet's Nest) is joining the crew.
There isn't a whole lot of information on Rapace's character at this point. Early rumors had her playing a French Gypsy who gives our leading men a hand in their latest adventure. And even though she looks badass in this shot, the wardrobe isn't giving away many clues. But that is a sweet hat!
What do you think? Eager to see Noomi in a Hollywood blockbuster? Sherlock Holmes 2 hits theaters Dec. 16, 2011