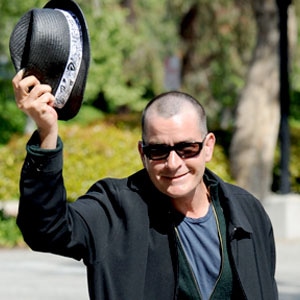 SHAN/GSI Media
Charlie Sheen has beaten Capri Anderson to the civil punch.
On a very big legal day for both of them, the actor sued the witness to his hotel-room freakout, claiming in the lawsuit that the "opportunistic pornographic film star and publicity-hungry scam artist" is trying to cash in on his celebrity by making up a "sensational tale about being assaulted, battered and held against her will."
Earlier today, Anderson filed a criminal complaint against Sheen and said during an interview on Good Morning America that she would be suing him for false imprisonment and assault.
It was the night of her "consensual encounter" with Sheen, the suit states, that the porn star "decided that this was her chance to become rich and famous."
According to the complaint, Anderson demanded $1 million, or else she would contact prosecutors in Aspen, where he was on the hook for his Christmas assault on his wife, and "seek to embarrass him and attempt to damage his career" by taking her story to the media.
Ha, as if anyone could damage Sheen's career...
Anyway, the suit alleges that Anderson did contact the Aspen District Attorney's Office and, when nothing came of it, still demanded $500,000 or else she'd go public with her account of their night at the hotel.
Sheen also pins his allegedly missing, $165,000 Patek Philippe watch on Anderson, stating in the suit that she only locked herself in the bathroom after he confronted her about the watch and asked her to give it back.
The actor denies any assault, battery or threat-making on Sheen's part and the complaint recalls how Anderson told police who arrived at the scene that she was "fine."
The suit alleges civil extortion, conversion and "prima facie torte," or injury-causing behavior. Sheen wants at least $165,000 in damages, i.e. the price of his watch.