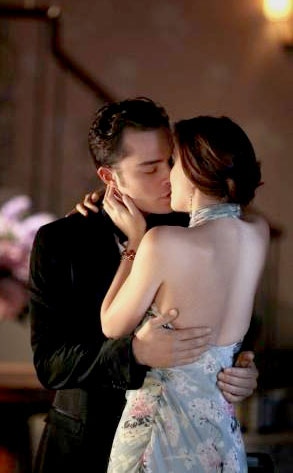 GIOVANNI RUFINO/ THE CW
Hooray for Mondays! And hooray for email, Twitter, Facebook and WUHPF!
We received hundreds of burning TV Q's from you fans, like what (or who?) is up next for Chuck and Blair? Could Meredith and Derek be heading for a real marriage? And how are we gonna survive without House for two whole months? Click for the answer to that, and so much more...
Betty: Got any Grey's Anatomy scoop?
Sure do! Fresh off her stint as Hellcats director, the amazing Ms. Debbie Allen is working behind the camera on Grey's Anatomy—and of course, Shonda Rhimes has already taught her the art of the dodgeful tease. "It is a big episode," Debbie laughs. "It might be the biggest episode of the season—I think it is! I love the cast. They are so much fun—Patrick Dempsey, Ellen Pompeo, Sara Ramirez, Sarah Drew, Kevin McKidd, Chandra Wilson. I had a scene today with all of them in one scene, and it was wonderful." And if you happen to be an L.A. local, you may want to watch Ms. Allen, Raven-Symoné and Urkel himself, Jaleel White, live and in-person in her upcoming production of The Hot Chocolate Nutcracker. "It's a wonderful retelling of The Nutcracker in a new way, and it is so much fun. What a family, holiday treat this is going to be for all those who come to Royce Hall at UCLA December 9 and 11."
@saarele (via Twitter): The Walking Dead—will we have to wait almost a year for season 2?!?!!
It looks that way. While one staffer speculates that The Walking Dead will return in November 2011, here is AMC's response when we contacted them today: "We have not yet announced when the next season will go into production or when it will air. Still TBD at this point!" Our guess is that unless they plan to spend the season indoors at the CDC, producers are going to torture the actors again by filming during another Atlanta summer. Jon Bernthal (Shane) told us, "I gotta say this was every bit as physically demanding and intense" as his World War II miniseries The Pacific. Juan Gabriel Pareja (Morales) adds, "We were in some really uncomfortable situations in the summer heat in Atlanta"—the actors' sweat and grime was 100 percent authentic.
Georgina: So excited to see Jorge Garcia's guest stint on HIMYM tonight. Anything to share?
You guys heard that Garcia was just cast in a new J.J. Abrams-produced pilot about ghosts on Alcatraz Island, right? So excited. Meanwhile, if you're still in mourning for Lost and want to visit a place where you can pay your respects, executive producer Jack Bender's new art show, called "The Lost Years," is on display at an L.A. art gallery in Chinatown through Dec. 18. Call 323-965-2264 for more info if you're interested in checking it out. Oh, and if you're still looking for a Christmas gift for the Lost die-hard in your life, we hear great things about the 400-page Lost Encyclopedia from the photo-book masters at DK Publishing.
Tammy: Please give us some Chair spoilers for the second half of the season!
Well, file this under bad news. Jessica Szohr tells us someone new is coming to Gossip Girl…again. "We have another guest star coming on, which is amazing," she says. "She starts to date Chuck Bass, which is exciting because everyone always wants Chuck and Blair together. This someone throws a little loop in their relationship—or throws everyone, actually." Another loop for Chuck and Blair? How do we feel about this, Chairsters?
Monica: Any chance Katie Cassidy will become a regular? I am loving to hate her on Gossip Girl!
I'm told she's only signed on for 11 episodes total—so, sorry, but you might not want to get too attached. She's got great stuff before she goes, though.
Meghan: Will Sam Page be back on Gossip Girl?
Sadly, Sam Page's sweet smile won't be back in the Upper East Side anytime soon. "There's no plan to return as of yet, but the door's certainly open since we left it on a nice note with a brief relationship," Sam tells us.
@Flave101 (via Twitter): I want to know about what's coming up for Jenny Humphrey on Gossip Girl. Any Jenny and Nate news?
Sad trombone! Nothing in the works for Jenny and Nate, and I'm told writers seem to be done with that storyline—at least for the current season. Sadness? Happy dance? What say you?
Rebecca: Please tell me Cristina will get her stuff together on Grey's Anatomy and return to her job soon! I love her fierce + fearless.
Good news: A source spotted Sandra Oh (Cristina) back at Seattle Grace Hospital for a recent shoot, so it looks like that fishing trip with Derek (that they shot a couple weeks ago in Big Bear, Calif.) may have worked some McMagic for her. By the way, in case you missed it, a fan asked Shonda Rhimes on Twitter why Derek seems to care more about Yang's PTSD than Meredith's miscarriage and she replied: "Umm..because Cristina saved his life & no one held a gun to Mer's head, gave her PTSD and made her unable to operate. Because he is being optimistic about future babies."
Danica: Will Meredith and Derek get hitched this season?
Nope. Again, per Shonda: "Mer and Der are as married as they are gonna get. I love them together and I love them together on a Post It."
@dylanfry: Glee stuff!
Production on the Glee Super Bowl episode begins tomorrow! Predictably, there will be a big focus on the football team in this ep, directed by Brad Falchuk himself. Look for at least two new jock characters: a tall good-looking football player named Strando, who might become a recurring character, and another athlete named Scott Cooper, who will be following in Puck and Karofsky's footsteps as the show's resident numbskull jock. Producers are also looking for BMX bike tricksters, fire-breathers and jugglers to shoot next week—sounds like they're planning a hell of a McKinley High halftime show. Do we get to vote who gets the wardrobe malfunction?
Megan: Are they ever going to tell us what happened to Dan Scott on One Tree Hill? I love me some Dan Scott!
Get outta my head! I just love it when you ask about the things I just heard about…Sources tell me that Dan (Paul Johansson) will indeed return for one episode of OTH this month or next, so you'll get to see what he's been up to. No finalized plans yet for Hilarie Burton and Chad Michael Murray, but I do keep asking for you guys (pinky swear). Still hearing they will return, but the exact way/time hasn't been settled yet.
@Eve_Venn (via Twitter): Any #House scoop to keep us going when the show goes on an 8 week hiatus after tonight's episode??!!
We hear that Chase will continue playing the field this season, and as a result, we'll be seeing more of his sexy Australian body. Yay!
@jillianlou (via Twitter): Where has Naomi been in Private Practice and (when) is she coming back?
Storyline-wise, Naomi has been overseas tending to William's estate and foundation. In real life, Shonda Rhimes tweeted that Audra McDonald is "taking a break to be a mom. She'll be back." In fact, Naomi returns next Thursday, Dec. 2, just in time for Addison to decide she wants a baby with Sam. Oh, and Addison is barren, as you may recall. Naomi is a fertility specialist. So...will Addison ask Naomi for help having a baby with Naomi's ex-husband Sam? Say it with me now: Awwwkward!
Amy: Jax has really disgusted me this season on Sons of Anarchy. Will Tara's hostage situation redeem him in any way? (Bonus points if there's an epic speech involved, like the season-one finale.)
Let's just say that emo Jax is gone for now and Action Jackson returns in full force in tomorrow night's episode. Woo-to-the-hoo!
@OliviaRoy (via Twitter): What's going to happen with Nucky and Margaret on Boardwalk Empire?!
Look for a crazy knock-down drag-out fight between those two in the next episode, with Nucky (Steve Buscemi) arguably demonstrating more passion than we've otherwise seen from him all season. We'll learn that Nucky wants something very specific from Margaret (Kelly Macdonald), and that there's a reason he traded in trampy Lucy for the seemingly saintly Margaret. It's good stuff, and you'll never guess what Margaret does in response to the big blowout.
@klutzy_girl (via Twitter): On Cougar Town, what are the chances of a Laurie and Travis relationship?
OK, ew—for the moment, at least—because this amazing twosome is really rocking the big sis-little bro dynamic. Plus, we have it on good authority that there will be no Laurie (Busy Philipps) and Travis (Dan Byrd) lovin' on Cougar Town…this season. Cue evil genius laugh!
Brandon: Can you tell us anything about Annette O'Toole's return to Smallville? Does it have to do with Clark's engagement?
You're half-right, but Smallville boss Kelly Sounders tells us, "Right now the heroes are under a lot of scrutiny, so Martha's the powerful woman we set her up to be. We last saw her as the Red Queen and when we see her again she's just as strong and powerful and has just as much of an impact on Clark's life." Look for Annette's return in episode 13.
@JanelleCottrell (via Twitter): Will the Martian Manhunter be coming back to Smallville?
Sorry to disappoint, but I'm told there are no plans for a return.
@bonniesrg (via Twitter): Hiya. On Vampire Diaries, with Caroline spilling the camp secret to Tyler are they heading towards a Tyler/Caroline hookup?
Hmmm….Well, funny enough the two potential lovebirds—Candice Accola (Caroline) and Michael Trevino (Tyler) are coming in to our studio tomorrow, and lucky me gets to interview both of them! So guess what I'll be asking them about? Ian Somerhalder's pecs, naturally. And I guess I'll also try to dig up some scoop on their relationship, if you insist. If you have any other Q's for Candice or Michael, hit me up via email (tvdiva@eonline.com) or Twitter (@kristindsantos).
Ginny: Tell me something is coming up for Bonnie and Jeremy on The Vampire Diaries! I want them together.
Nothing yet. I'll let you know if/when I hear of anything in the works, but so far all's quiet on the Bonemy front.
@jillkorte (via Twitter): Vampire Diaries!!!
David Boreanaz is guest starring on The Vampire Diaries! OK, not really, but they are adding a character named Angel—only in this case Angel is a lady TV reporter who gets her flirt on with Damon Salvatore after she comes town to cover a "drug-related" bloodbath. Oh, and speaking of new characters, we can expect to first meet über-vamp Klaus in episode 16, which will probably air during February sweeps.
Janice: I'm so sad The Event will be off the air for a few months. Any scoop to tide me over?
Jason Ritter tells us the next few weeks are pretty damn good. "In coming episodes, we learn a lot more about how many sleepers there are—the other people who were not detained. You find out how many there are and how they're integrated themselves into society." Any don't worry Sean and Leila shippers, Heather McComb's sexy FBI agent will not come between these two. She swears it. "Sean and Leila (Sarah Roemer) are so amazing together and they should be together," Heather laughs. "It's so funny because people ask me that and I'm like 'You guys are sick! He's trying to find his girlfriend, what's he doing with the [FBI agent]?!' It's not like that."
@LovetheHOFF (via Twitter): Hawaii Five-0 please! Is Catherine coming back? Or anything bout Wo Fat or Victor Hesse?
Yes, Catherine will be back. And you'll have to wait until Dec. 13 to see how Wo Fat and Hesse factor into things, but I can tell you that they will both give 5-0 a run for the money!
Wallace: Anything on Silver and Navid on 90210? I keep thinking how great they'd be together.
Then apparently you have some superstrong mental powers that—poof!—turn your wishes into reality. I'm told that Silver and Navid will become something of a "thing," but it will be on the DL because Adrianna is trying to figure out who the "other woman" is. Now, will you keep thinking how great it'd be if I got a pony?
Seller: Any word of whether Chuck will be back on Supernatural? I'm happy to see that the show is finally getting its groove back after Kripke jumped ship, but I still want to know if Chuck was God or not. They seem to have abandoned that storyline.
You're right, sorry. It has been dropped for now, from what I hear. No plans for a Chuck return. New show runner Sera Gamble told us, "We love Rob [Benedict] and never say never, but we haven't written a story for him yet."
Hanah: What happened to Pretty Little Liars? Is the show coming back soon?
Pretty Little Liars returns Monday, Jan. 3 at 8 p.m., and it is better than ever. In fact, we'll find out who "A" is…well, who Hannah thinks "A" is anyway. (We doubt it's true. Seems more like a jealous lovah to us…) Plus, one couple gets married, one couple reevaluates their relationship and one (potential) couple is born.
Kim in Sydney, Australia: Kristin!! Where is the Fringe scoop? Throw us more seasoned TV drama lovers a bone!
Fetch this, if you can (it's a pretty big bone): The Dec. 2 episode, "Entrada," is a heartbreaker and possibly Fringe's finest episode to date. Olivia (Anna Torv) returns home, but at great cost to a beloved Alt character on the other side. It is devastating for everyone (just like Fringe's impending move to Friday nights), and you will cry.
@losty10 (via Twitter): Can you tell us anything about The Walking Dead?
More sadness ahead—for the characters in the next episode, and for us because the season's over in two weeks. We still don't catch up with Merle, but we do catch glimpses of a kinder and gentler Daryl. (Sort of.) The gang also breaks camp and caravans to the CDC in the hopes of finding a cure for the zombie sickness. Unlike the Vatos, they find a survivor who is very happy to see them.
@seggler: What's the deal with Lux and Eric? Any updates on their relationship?
Ooh, things are getting juicy for Life Unexpected's star-crossed lovers. According to our sources, Lux (Britt Robertson) and Eric's (Shaun Sipos) relationship takes a big turn in the next few episodes for two reasons. (1) More secrets about Lux's past will come to light, which affect the student-teacher relations, and (2) Sam (Landon Liboiron) knows their secret and is holding it over Lux's head, causing things to come to a, um, head.
—Additional reporting by Jennifer Arrow, Megan Masters and Drusilla Moorhouse