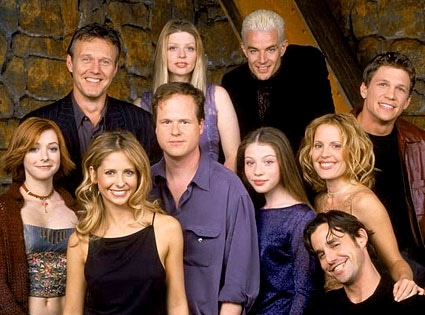 Hear that? It's the sound of Buffy the Vampire Slayer die-hards pumping their fists in rage. Or wait, is that just here in our office?
After years of fans hoping Joss Whedon's incarnation of the Buffy-verse might make it to the big screen, Warner Bros. has just offically announced they're doing a "reboot" version of Buffy, without any apparent involvement by the original creative team for the movie or TV show, including the man considered the end-all be-all Buffy mastermind, Whedon.
So what do these movie people have to say for themselves?
"There is an active fan base eagerly awaiting this character's return to the big screen," says Charles Roven, who will be producing the feature film through Warners and Atlas Entertainment. "Details of the film are being kept under wraps, but I can say while this is not your high-school Buffy, she'll be just as witty, tough, and sexy as we all remember her to be."
According to Warner Bros.' release, Roven, Steve Alexander, Doug Davison and Roy Lee will produce the new Buffy feature film,and Whit Anderson will write the script.
Who is Whit Anderson? Apparently a huge Buffy fan who pitched Roven the idea, and the deal was made: Warner Bros. Pictures optioned the rights from directors Fran and Kaz Kuzui, and from Sandollar Productions (Sandy Gallin and Dolly Parton), who did the original movie version (pre-TV's Buffy). Roven and Alexander are behind films such as Dark Knight and Get Smart, plus TV's sadly canceled Rubicon; Davison and Lee worked on How to Train Your Dragon and quite a few horror films.
No word yet on whether any original castmembers will take part in the new Buffy film in any form, but Davison and Lee worked with Sarah Michelle Gellar on The Grudge, so maybe that's something?
Of course, the new movie could turn out to be genius, and a pitch-perfect homage to what TV Buffy fans loved so dearly from Whedon's version. But suffice to say, producers have a tall task ahead.
No word yet from Whedon or his camp.
What say you? Will you support this new Buffy flick at the box office? Can you resist? Hit up our comments.