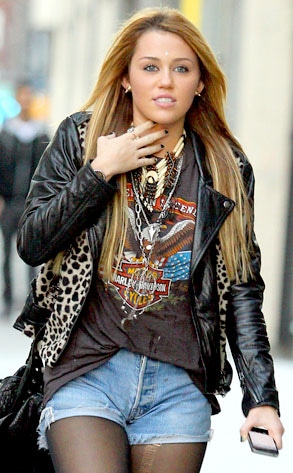 Freddie Baez/startraksphoto.com
Miley Cyrus was spotted leaving the Soho House in West Hollywood over the weekend, looking a little worse for wear. Gosh, wonder why? There could be so many reasons, right: More Disney costars are coping with the tough price of fame; plus, Miley's 'rents are divorcing.
The babe, who was semi good-girl glam in a Marchesa mini at last night's AMAs, seemed stressed-out late Friday night (or rather early Saturday morning) after a night of partying, er, hanging with her pals...
Cyrus, in black leather books, black skinny jeans, a T-shirt and an oversize leather jacket, was "chain smoking up a storm" at the valet, according to prying (and extremely sober) eyes.
"She had messy hair and makeup and didn't look that great," dishes our source who saw Miles waiting for her wheels.
M.C., who turns 18 tomorrow (happy birthday, hon!) was with two guy friends and another girl, but our insider was not getting the double-date vibe. Last night's make out partner and her maybe boyfriend, Avon Jogia, should be happy then.
Now, between her parents divorce and ex-boyfriend Liam Hemsworth parading his latest blond hookup in front of the paparazzi, can't say we blame M.C. for looking like she's been through the ringer. She has!
Still, we're sure she did it looking better than most.
But we do wish these young stars, Twilight gang included, would lay off the cigs. Even you all agree it would only up their sex appeal.
Another young starlet of the moment, meanwhile, was getting a natural high...from shopping!
Emma Stone, in jeans and heels, was perusing the shoe department at Barneys in Beverly Hills recently with a young stylist in tow.
Looking "super skinny and blonde," according to a fellow shopper, Stone was having a blast with her friend, picking out different pairs of shoes from Prada to Alaia.
We've had our eye (and still do) on Emma to be a major Hollywood player in the long run, so we think the babe has loads to celebrate. Spend away, hon!
Another famous type far more selective with his green was...
Neil Patrick Harris making a late appearance at the Angels Art Auction in L.A.
NPH didn't bid on anything, but he looked fine not doing it in a suit.