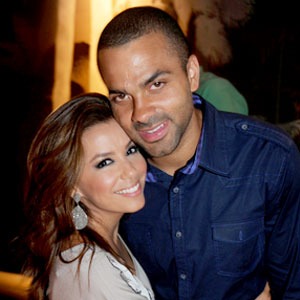 Seth Browarnik/startraksphoto.com
In a way, her rep was right: Eva Longoria Parker didn't file for divorce from Tony Parker in Texas yesterday.
She filed for divorce in Los Angeles today.
"It is with great sadness that after 7 years together, Tony and I have decided to divorce," Eva tweeted this morning. "We love each other deeply and pray for each other's happiness."
Amid rampant rumors of infidelity on her NBA-playing hubby's behalf, the Desperate Housewives star this morning filed paperwork seeking to end her marriage of three years, citing those ever popular irreconcilable differences. No exact date was listed on the paperwork as to when they separated.
"We are not commenting at this time," Longoria's rep told E! News.
According to the documents, Longoria and Parker entered into an "agreement in contemplation of marriage" (that'd be a prenup, to the uninitiated) prior to their wedding, and also signed a post-nuptial agreement back in 2009.
However, the actress, who is asking the court to restore her pre-marriage name and drop the "Parker" from her surname, is seeking spousal support from Parker.
Rumors aside, so far there's no official word on the cause of the split between the 35-year-old Longoria and the 27-year-old Parker, though it's not the first time reports of extramarital activity have rocked their relationship.
Their reps have so far kept mum on anything official, with Eva's rep even denying a split as recently as this morning. In any case, one thing everyone seems to agree on is that the actress, who first roused our suspicions this week after abruptly backing out of a series of appearances, was blindsided by the demise of her marriage.
According to Longoria's longtime pal Mario Lopez, the marriage imploded a few weeks ago, when the actress found hundreds of text messages from another woman—the wife of a fellow NBA player—on Parker's phone. She also confessed to her pal that Parker cheated on her once early on in their marriage, but that he remained in contact with the woman on Facebook.
"She is devastated, she wants us to know that," Lopez said. "But she's strong."
The duo tied the knot on July 7, 2007 in a 17th century castle outside Paris. Too bad it didn't come with the guarantee of a fairy-tale ending.
—Reporting by Claudia Rosenbaum
(Originally published on Nov. 17, 2010 at 9:44 a.m. PT)