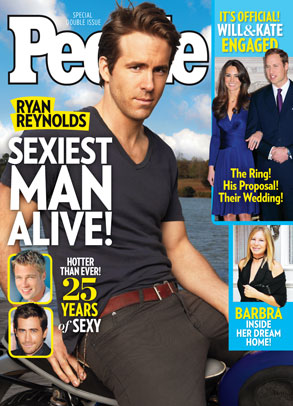 People
Johnny Depp, you have been usurped.
This year, the hotness that is Ryan Reynolds was deemed the fairest of them all, scoring the title (and cover) of People's Sexiest Man Alive. Which makes it official: what with wife Scarlett Johansson fresh off her crowning as Babe of the Year, there's no hotter couple in existence.
Also included in the cornucopia of impressive specimens: Jon Hamm, George Clooney, Robert Pattinson, Kellan Lutz, Robert Downey Jr., Bradley Cooper, Jake Gyllenhaal, Matthew Morrison and...Mel Gibson?!