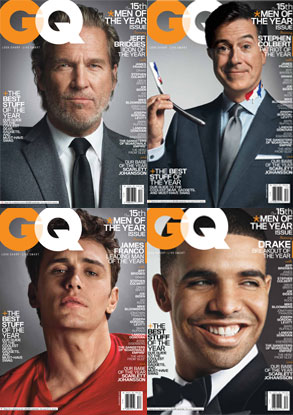 GQ
If a greased-up, glossy-haired, cleavage-baring babe isn't your thing, don't worry: GQ still has a cover for you.
Make that four covers.
Check out the dudes whom the mag considers men—not just today or this week or this month, but for the whole darn year!
Of course, they each possess a certain somethin' that makes them sexy. Jeff Bridges has an Oscar, Drake loves his Mom, James Franco would give you his right arm and Stephen Colbert is so patriotic he bleeds red, white and blue. (Really! Just look to your left!)
The question is: if you can only have one staring up from your coffee table, who would it be?