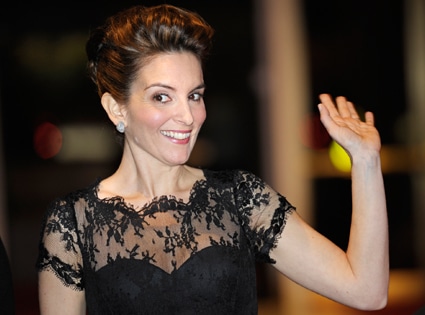 AP Photo/Cliff Owen
Tina Fey is Liz Lemon on TV and "a pretty cool cucumber" in real life.
That's how her Date Night costar Steve Carell described the Emmy-winning actress and writer, who was presented with the Mark Twain Prize for American Humor tonight in Washington, D.C.
PBS will air the ceremony on Sunday, so it's too bad the prize committee couldn't get anyone else to show up to honor Fey.
Haha, totally just kidding! Funny, right?
The Kennedy Center was brimming with stars, including Fey's former Saturday Night Live compadres and her fellow 30 Rockers.
"I was the first male cast member who tried to force an unwanted kiss on the first female head writer," announced Tracy Morgan.
"Tina. Well, that's a funny name for a man," Alec Baldwin, sporting a Mark Twain mustache, said in a southern drawl. Women don't usually win his namesake prize, he said, because "their brains aren't shaped right."
"She is a very funny person, but she's surprisingly down-to-earth as well," Carell said of Fey, who's the 13th person to receive the Twain Prize and only the third woman, besides Lily Tomlin and Whoopi Goldberg.
At 40, Fey is also the youngest person to ever win.
"Isn't it refreshing to find a comedian who is both really good and funny looking?" Steve Martin wondered aloud.
"You can't learn talent, but you can learn worth ethic," said Seth Meyers, who took over the head writer position at SNL after Fey left. "She's the hardest worker. She's an assassin."
Added SNLer Fred Armisen: "She makes fun of people really well—under her breath. It's so funny, so sharp."
Also on the guest list Tuesday were Jon Hamm, Amy Poehler, Jimmy Fallon, Jane Krakowski, Jennifer Hudson and Betty White.
"Too bad she's not good-looking," White, obviously already campaigning for next year's prize, quipped in May when Fey was announced as the 2010 honoree.